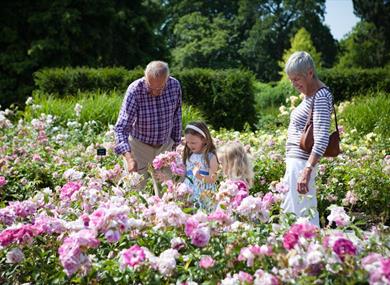 Address/Location
The Savill Garden
Windsor Great Park
Wick Lane
Englefield Green
Surrey
TW20 0UU
Contact
The Power of Flowers
Activities
This summer season, experience the sensation of sight, sense and taste at The Savill Garden.
From 10 June to 30 September 2017, visitors to The Savill Garden will be able to enjoy a series of family-friendly activities* including an activity sheet, arts & crafts, face painting and puppet show.
Activity Sheet
Every day from 10 June until 30 September children visiting The Savill Garden will be given a FREE activity sheet. They can follow the map to find each of the Power Points in The Garden and learn more about the Power Flowers that they see and smell as well as how they are used in our everyday lives.
Creation Station
Children can have fun for FREE with the team from 'Creation Station'. Stop by at The New Zealand Garden and make something colourful to take away.
On the following dates between 11:00hrs and 15:00hrs
June: 10, 17, 18, 24, 25,
July: 01, 02, 08, 09, 26, 27,
August: 02, 03, 09, 10, 16, 17, 23, 24, 30, 31
Face Painting
Visit the team from 'Fascinating Faces' who will paint your face for FREE with a colourful flower so that children can get in to the spirit of The Power of Flowers. They have even created some special characters for boys like 'Captain Allium', 'Hydrangea-Sauras' and 'Swamp Man, Guardian of the Pond'.
On the following dates between 11:00hrs and 16:00hrs
June: 11, 17, 25,
July: 02, 08, 15, 25
August: 01, 08, 15, 22, 29
September: 05
Puppets in The Garden
Created especially for The Savill Garden to encompass the Power of Flowers, this FREE show will tell the story of Little Red Riding Hood and her quest to deliver flowers to her granny.
On the following dates for four shows at: 11:00hrs, 12:30hrs, 14:00hrs, 15:30hrs
June: 18, 24
July: 01, 09, 16, 24, 31
August: 07, 14, 21, 28
September: 04
New Product Sampling
Join us at The Savill Building on the 17th and 18th June and sample new products from Savon Stories. Hand made in England these organic skincare & remedies are made with a century's old family ethos: to nurture the best of good green earth & to be rich with less than more.
*All activities are subject to availability and can be changed without notice. Adult entry to The Garden is £10.50 per person. Children (under 16) visit for free. Please ask for full details before purchasing your ticket.

Opening Times
Open
(10 Jun 2017 - 30 Sep 2017)