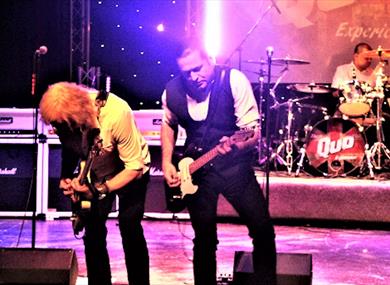 Address/Location
Norden Farm Centre for the Arts
Altwood Road
Maidenhead
Berkshire
SL6 4PF
Contact
Experience the magic and exhilaration of Status Quo in Maidenhead
The Quo Experience bring the sights and sound of legendary band Status Quo to Norden Farm Centre for the Arts. Catch them on Tuesday 15 August at 8pm. Tickets are £20.
The Quo Experience capture the magic, excitement, exhilaration and euphoria of watching Rick and Francis performing together live. They are a perfect tribute to the legendary duo. But The Quo Experience is not just another Quo tribute band. It is an experience. It offers an ongoing chance to experience the sounds and looks of Britain's biggest singles chart band of all time.
The bands impressively experienced line up includes Shaun Michaels as Francis Rossi and Dave Crawte as Rick Parfitt. Shaun and Dave have spent years studying every detail of Rossi and Parfitt's looks, playing styles and stage performances. They are as close to the legendary rock duo on stage as is possible.
The line up also features Graham Partridge, a superb keyboard player who captures the magic of Andy Bown's playing and vocals perfectly. Alex Bayou is a brilliant Matt Letley-style drummer. He has been playing along to Quo since he was four years old. The band is completed by Brian 'Brino' Smith on bass. Brino has been a well-known and respected performer on the Quo tribute circuit for over ten years. He thumps out the Rhino bass lines to give the band the stomach thumping sound every Quo Army fan expects to hear!
Join The Quo Experience as they recreate the full live experience of one of Britain's most iconic bands.