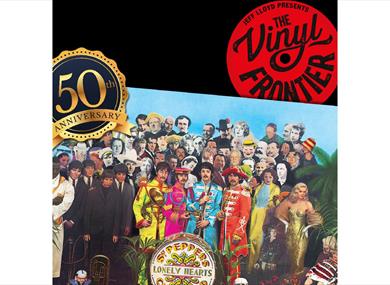 Address/Location
Norden Farm Centre for the Arts
Altwood Road
Maidenhead
Berkshire
SL6 4PF
Contact
50th anniversary celebrations all round with The Vinyl Frontier this June
The Vinyl Frontier presents Sgt Pepper's Lonely Hearts Club Band at Norden Farm Centre for the Arts on Saturday 24 June at 8pm. Tickets are £8.
On his 50th Vinyl Frontier, having recently celebrated his 50th birthday, host Jeff Lloyd brings us the ultimate 50th: the 50th anniversary of The Beatles' Sgt Pepper's Lonely Hearts Club Band.
On June 1st 1967 Sgt Pepper was released and changed popular music. The album marked the high point of the summer of love and set in place a musical arms race, where musical creativity was pushed to the limits. Jeff will be playing the recently remastered version in full, on vinyl and backed by rare videos and pictures.
Like a fine wine tasting evening, he'll also provide the audience with listening notes - what to listen out for in various tracks. And of course, the famous cover. Who is on it, who isn't on it and why it helped fuel the legend that Paul McCartney was dead! Maybe he'll even try and recreate it with the Studio audience...
Come and relive the magic of the summer of love in Norden Farm's Studio this June and don't forget to bring the patchouli oil.