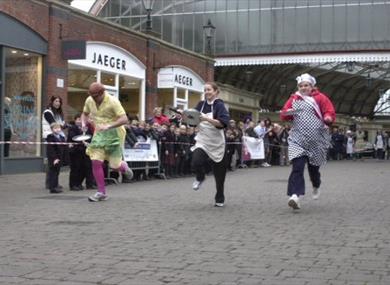 Address/Location
Windsor Royal Shopping
Thames Street
Windsor
Berkshire
SL4 1PJ
Contact
It's time to flex those wrists and whizz up eggsactly the right combination of flipping skills and fancy footwork in the wake of last year's successful pancake challenge.
The traditional race to the finish promises to be even bigger and batter this year, we are hoping to attract up to 40 teams (150 runners) taking part in the age-old Shrove Tuesday activity.
The whole event will once again take on the festive air of a "costume drama" with teams encouraged to don the traditional pancake racing gear of the 15th century housewife - skirt, apron, headscarf and frying pan (male participants included!)
Entry is £40.00 (or more if you wish) for a team of four.
Book online or in person at the Royal Windsor Information Centre, Windsor Royal Shopping, Thames Street, Windsor.