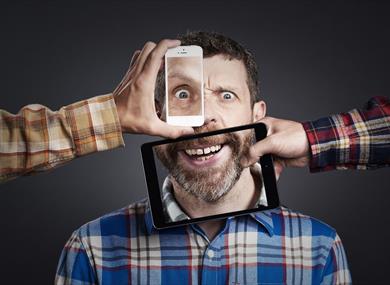 Address/Location
Norden Farm Centre for the Arts
Altwood Road
Maidenhead
Berkshire
SL6 4PF
Contact
Dave Gorman tests material for his new television series
In preparation for the next series of his hit TV show Modern Life is Goodish, Dave Gorman is back on the road armed with brand new material. Dave Gorman – Work in Progress comes to Norden Farm Centre for the Arts on Wednesday 13 September, Friday 15 September (sold out) and Monday 18 September at 8pm. Tickets are £15.
Dave Gorman began his career writing for television comedy series, such as The Mrs Merton Show and The Fast Show. His stand up shows also achieved acclaim and he has been nominated for a Perrier Award. In 2003, he was listed in The Observer as one of the 50 funniest acts in British comedy.
2017 sees him making the fifth series of his solo stand up show, Modern Life Is Goodish for Dave. Series 1 was the highest rated new-commission on the channel in 2013. Series 2 was extended to eight episodes and was watched by even more people in 2014. Series 3 and Series 4 both increased audience figures.
Dave needs to come up with eight hours of new material for Modern Life is Goodish. His performance at Norden Farm is devoted to developing and polishing new ideas for the show.
Join us when Dave takes a mischievous look at modern life. He shares his observations and frustrations with a little help from his laptop.