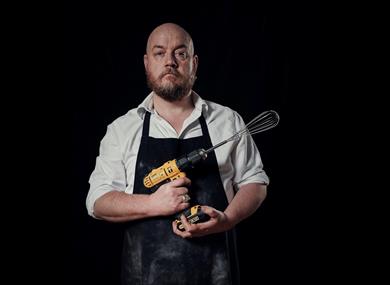 Address/Location
Norden Farm Centre for the Arts
Altwood Road
Maidenhead
Berkshire
SL6 4PF
Contact
A spoonful of comedy and a pinch of live cooking makes one hilarious show
Following two sell out years in a row at Edinburgh Fringe, award-winning comedian George Egg brings his new show to Norden Farm Centre for the Arts. George Egg: DIY Chef is on Sunday 19 November at 7.30pm. Tickets are £14, £12 Supporters. Suitable for ages 14+ years.
In DIY Chef, George's doctor has told him he needs to rethink his culinary habits. As a result, his family have banned him from using the kitchen. They've banished him to the shed. But George simply has to keep cooking and his unstoppable urge to be creative means inventive solutions and some seriously tasty food.
DIY Chef is funny, inspiring and absurd in equal measure. It's a cross-genre show falling somewhere between a stand-up comedy set and an illustrated lecture.
Expect power tools, gardening equipment and office supplies to be abused and re-purposed. Expect lots of laughs. Expect to learn something new. And you get to taste the food at the end.
Join us for George Egg (the Anarchist Cook)'s brand new show DIY Chef. He demonstrates more ingenious live cooking and laugh-out-loud comedy. If you like food, you'll love this.