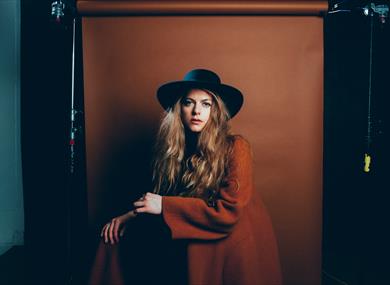 Address/Location
Norden Farm Centre for the Arts
Altwood Road
Maidenhead
Berkshire
SL6 4PF
Contact
From Nashville's famed Sound Emporium Studio to Maidenhead
Soul. Blues. Gospel. Beatles-worthy pop. These are the core ingredients of Jo Harman's People We Become. It is a modern album rooted in the classic, timeless music of past generations. Jo Harman performs at Norden Farm Centre for the Arts on Thursday 7 December at 8pm. Tickets are £14 (£12 conc).
Jo found success with her debut album Dirt On My Tongue. It was released independently in 2013. The release was supported by a tour that found Harman sharing the stage with icons like Patty Smith, Joan Baez and Sinead O'Connor. Dirt On My Tongue was wildly successful for an independent record. It received more than half a dozen nominations from the British Blues Awards.
The musician's most recent album People We Become was released worldwide in February 2017. The album expands Jo's horizons beyond any single genre. She takes inspiration from classic arts such as Carole King, Cat Stevens and David Bowie. To make it, she headed overseas to Nashville, Tennessee. The album is full of upright piano, Rhodes, unaffected bursts of electric guitar, and the soulful sweep of Harman's voice.
Harman's voice has been sharpened by her years on the road, and her songwriting has progressed with experience. She says: 'I've learned how to express myself a bit better, and to convincingly put across the stories that I'm telling. It's a natural progression. My voice has matured, in the same way that the songs have matured, and the production has matured. I've only ever tried to be me, and that's what People We Become is. It's me'.
Poignant and personal, tracks like Silhouettes of You, Changing of the Guard, and Person of Interest find Harman moving through the stages of a breakup. Other tracks cast a broader net, with the stomping, percussive Reformation taking influence from Harman's work with Amnesty International. Backing her up on the album are some of Nashville's best session players.
Join us when Jo Harman performs songs from her new album in the intimate Studio theatre.