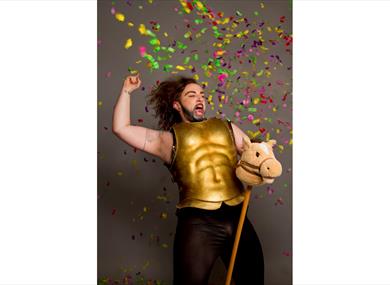 Address/Location
Norden Farm Centre for the Arts
Altwood Road
Maidenhead
Berkshire
SL6 4PF
Contact
A refreshing look at history's greatest underdog – Joan of Arc
What happens when a disguise soon becomes something a lot more real and you have to fight for who you really are? An earthy story of courage, conviction and hope, Joan is a refreshing look at Joan of Arc – history's greatest underdog. Show starts at 7.30pm on Wednesday 1 November. Tickets are £14 (£10 conc). Suitable for ages 12+ years.
This is a timely and refreshing look at one of history's most famous heroines, exploring the salient themes of identity, courage and belief.
History's greatest gender-warrior takes to the stage, dragging up as the men she defies in this smash-hit show. This is the latest daring fusion of lyrical new writing and anarchic cabaret from the multi-award winning Milk. Performed by drag king champion Lucy Jane Parkinson. Packed with guts, heart (and some well placed couscous).
Joan is a Drag King theatre show that aims to introduce new audiences to this ever-growing art form, placing it within theatre spaces and community settings. Drag Queens have long been at the forefront of experimental performance and popular entertainment, but Kings are quickly catching up.
Joan stormed the Edinburgh Fringe in 2016. The show took home numerous 4 and 5 Star reviews. It also picked up three awards.
Joan is a fearless solo show, with uproarious songs, exploring what it means to stand out, stand up and stand alone.
Opening Times
Wednesday at 7.30pm
(1 Nov 2017)