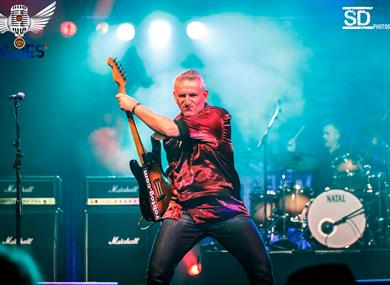 Address/Location
Norden Farm Centre for the Arts
Altwood Road
Maidenhead
Berkshire
SL6 4PF
Contact
A powerfully charged blues performance in Maidenhead
Australian blues guitarist Rob Tognoni delivers one of his powerfully charged performances at Norden Farm Centre for the Arts on Saturday 20 January at 8pm. Tickets are £15.
After 40 years in the business, Rob's explosive guitar playing and unique songs are now being compared with the greats of his genre. He is firmly established in European venues and festivals as well as gaining many fans of hard blues rock worldwide.
The musician is from Tasmania, Australia. He was introduced to Europe by blues master Dave Hole in 1994. Rob's childhood was fairly sheltered from music. Tasmania in the 1960s was isolated and blues music was not that well known until the early 1970s. At the age of 14 Rob suffered a blow that deeply affected him. His father was struck by a car and died. Soon after, Rob became obsessed with the guitar as an escape from his grief.
The defining musical moment in Rob's life was going to see a relatively new band on the scene touring from mainland Australia - AC/DC. Rob started churning out the simple, basic power chords made famous by this influential band. But an emotive blues feel was becoming more evident in his playing. He wrote his first song Jim Beam Blues at 17. At 23, he decided to start a band and played with many bands in numerous genres until Dave Hole introduced him to Europe and he returned to his solo blues roots.
Join us when Rob's powerful blues sound fills the Courtyard Theatre.
Opening Times
Saturday at 8pm
(20 Jan 2018)