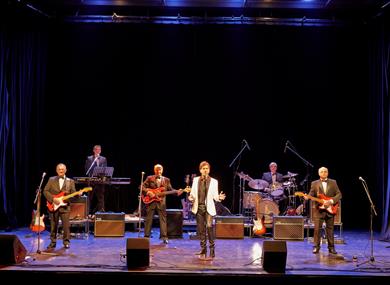 Address/Location
Norden Farm Centre for the Arts
Altwood Road
Maidenhead
Berkshire
SL6 4PF
Contact
Dance On to the sounds of the sixties in Maidenhead
The most authentic Cliff and the Shadows tribute act in the UK returns to the stage at Norden Farm Centre for the Arts for the fourth year running. Simon Goodall & the Bourne Again Shadows reproduce the authentic sounds of Cliff and The Shadows on Saturday 18 November at 8pm. Tickets are £15.
The band is critically acclaimed as the most authentic Cliff and The Shadows tribute act. Sir Cliff himself has said: 'Simon's the first person I've heard who I actually think sounds like me. It's uncanny!'.
The Bourne Again Shadows are Thames Valley locals. Simon, the lead singer, is a professional solo and session singer. He developed his Tribute to Cliff act after many people had commented just how much he sounded like Cliff. Simon teamed up with The Bourne Again Shadows for a debut concert in 2014. They have worked together regularly since.
The band's repertoire includes Cliff Richard chart-toppers like Summer Holiday, Living Doll, Move It and Please Don't Tease. The show also includes classic Shadows number one hits such as Apache, Wonderful Land, Foot Tapper and Dance On. Their set will contain classic rock and roll numbers from Sir Cliff's latest album, released last year to much critical acclaim.
Join us to re-live the sounds of the sixties with this celebration of some of the UK's most enduring music.