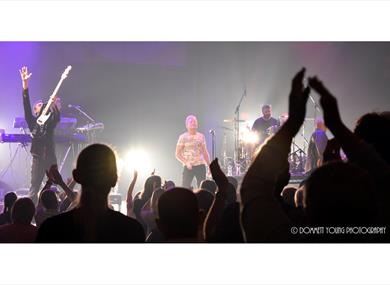 Address/Location
Norden Farm Centre for the Arts
Altwood Road
Maidenhead
Berkshire
SL6 4PF
Contact
Don't Get Fooled Again – book early for The Total Who in Maidenhead
Celebrate 50 years of all the hits and classics by one of Britain's most legendary bands at Norden Farm Centre for the Arts. The Total Who Show is on Saturday 13 January at 8pm. Tickets are £15.
The Total Who Show is brought to you by Johnny Warman's Magic Bus. The band features top musicians who have performed with acts including David Bowie, Elton John, Ringo Starr, Roger Daltrey, Peter Gabriel, The Small Faces, Bruce Springsteen and Foo Fighters.
Few tribute bands can genuinely claim to have a rock star in its ranks. But the Total Who Show has just that in local front man, Johnny Warman. Johnny was signed to Ringo Starr's record label. He had a string of hits in the 1970s and 1980s, including Screaming Jets which featured Peter Gabriel.
Johnny's love of The Who inspired him to form a band of top session musicians, bringing classics like Pinball Wizard and Who Are You to a new generation. For Johnny, it's all about paying tribute, not mimicking the originals. He wants to do justice to songs that changed the face of popular music.
Get ready for two hours of all the hits and classics including Won't Get Fooled Again, My Generation, Pinball Wizard, Substitute and Who Are You.
Opening Times
Saturday at 8pm
(13 Jan 2018)