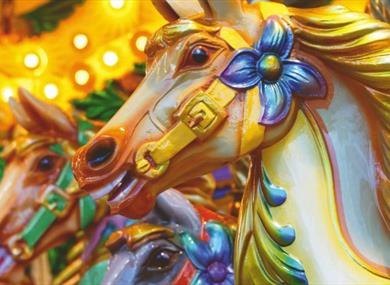 Address/Location
Wick Lane
Englefield Green
Egham
Surrey
TW20 0UU
Contact
Discover the Winter Magic at The Savill Garden this December. Be enchanted by our family Gingerbread Trail through The Savill Garden, take a delightful ride on the stunning Edwardian Carousel or become a magical woodland creature with Fascinating Faces, before enjoying hearty winter dishes and naughty sweet treats in the Savill Garden Kitchen.
And as we get closer to Christmas Day, the magic increases ...
Winter Magic
Join in the holiday cheer and listen to live performances of songs of the season in The Savill Building performed by local school children on 05, 08, 11 and 15 December.
The magnificent Edwardian carousel returns to the front of The Savill Building from 16 - 23 Dec and 26 Dec – 1 Jan, and this year, there will be another little carousel appearing too; just for smaller ones! Each ride is £2 per person.
Entry into The Savill Garden is free throughout December - car park charges apply. At this time of year, the patchwork of winter interest in the Garden combines beautifully with mixes of colours, textures and scents. Follow the Gingerbread family trail from 1 Dec, finding some of the stars of the Garden, with games and activities for children from 5 – 10 years old. Cost per trail £3.50.* What's more, there'll be a tasty treat waiting at the end!
*Car park charges apply and The Savill Garden is closed on 24 & 25 Dec.
Fascinating Faces return to The Savill Building in the school holidays. By waving their face-painting magic wand they will transform your little ones into fairies, elves and woodland creatures like Sprucy Spriteycus, Whiffleflame the tree elf or Gigglewillow the robin. Face painting will be in The Savill Building from 21 – 23 Dec & 27 Dec – 1 Jan. £3.50 per child.**
**Midday until 4pm. Face painting is only available for children 3 years and older.
Christmas shopping
The Savill Garden gift shop is filled with fantastic Christmas gifts, decorations and special tasty treats. There are even Poinsettias from the Royal Greenhouse.
Gift Memberships are a wonderful Christmas present to share with any loved one. Visiting the Gardens and wider Great Park offers so many opportunities to get outside, relax in the beautiful surroundings and experience the natural wonder of Windsor Great Park.
Double Discount Weekend - ONLY for Friends and Members of The Savill Garden
Need inspiration for your Christmas gift ideas? Then come and visit our Gift Shop on 24, 25 and 26 Nov and take advantage of double discount weekend! So your normal 10% turns into 20%, so there is no excuse not to find the perfect present for friends and family.
Christmas in The Savill Garden Kitchen
Come and enjoy delicious festive fare from the new Winter menu or book a Christmas Lunch or Christmas Afternoon Tea in The Savill Garden Kitchen.
Available for pre-booking only, our Christmas lunch and afternoon teas are available from 01 December 2017.
With a choice of three starters, mains and desserts, there is something for everyone on this year's Christmas Lunch menu – look out for ham hock croquettes, seared salmon and butternut squash ravioli. Not forgetting of course traditional turkey, served with Cumberland sausage, sage and onion stuffing, roasted root vegetables, pigs in blankets and cranberry jus. Each guest will also have a cracker to pull!
Christmas Lunch - Two courses £22 / Three courses £25 per person
Christmas Afternoon Tea - £12.50 or £16 with a glass of Prosecco per person
To book, please call 01784 485402 or email savillgarden@benugo.com
Christmas Trees
Buy your freshly cut Christmas Trees and decorations from the Christmas Tree depot and pop-up shop in the Windsor Great Park forest at Forest Gate on A332 from 25 November - 23 December.
Opening Times
Open
(1 Dec 2017 - 1 Jan 2018)
* The Savill Garden and Savill Building close on Christmas Eve and Christmas Day but are open as usual for the rest of the Christmas period.