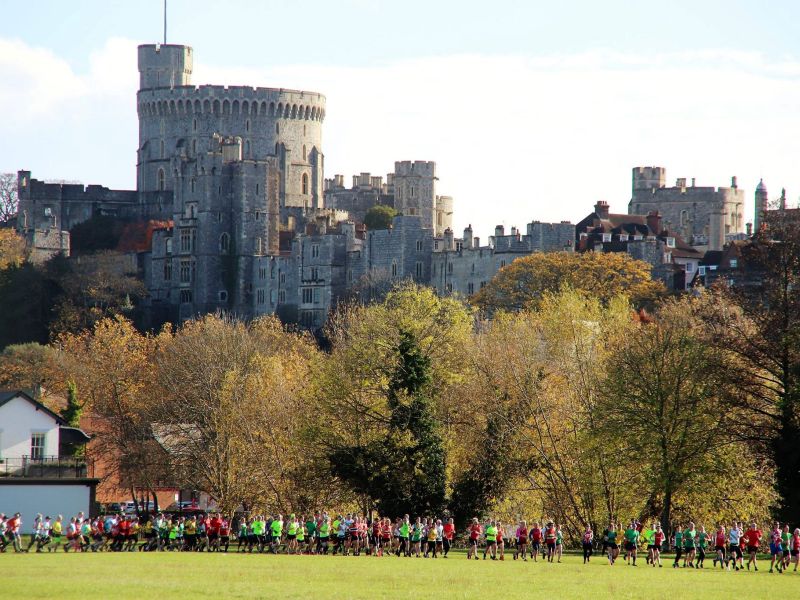 Runners on the Brocas, Eton, with Windsor Castle across the river. Image courtesy David Hutt
I run. Some might call it a jog, but there is something special about getting into the fresh air and pounding the footpaths and parkland on offer in Windsor no matter what speed my legs want to travel.
As the nights are drawing in its best to keep to the street-lit footpaths of the town or to join a group of runners so you are not alone. But during the day Windsor has an abundance of traffic free routes, one of which I enjoyed last Sunday morning.
Starting on Eton Bridge I was soon away from the everyday activity of tourists, Eton boys and Windsor locals by running across the Brocas. Keeping the Thames on my left I planned to run 2.2 miles to Andrews boathouse at Dorney Lake, then turn around and run back towards the wonderful sight that is Windsor Castle.
Running the Thames Path from Windsor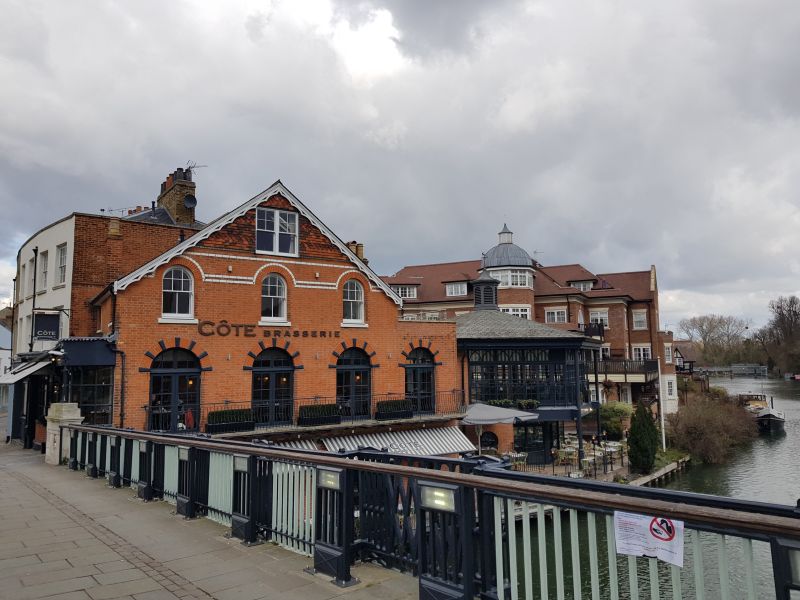 My run starts on the pedestrian bridge that connects Windsor and Eton
Through the trees on the far side of the Brocas I looked across the water to see Windsor Leisure Centre. Why run on a machine looking out at the world when you could be running outside? Yes it's cold outside but I'd soon warm up.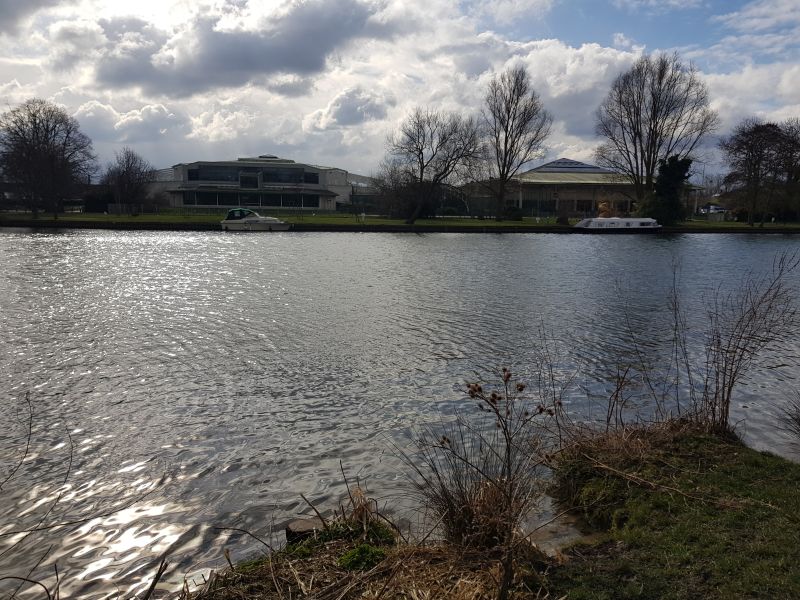 View of Windsor Leisure Centre from the Thames Path
Just after the leisure centre is the bridge under Royal Windsor Way where I'm faced with faces that always make me smile. Installed as part of the Cultural Olympiad this mural will 'talk' to you via a mobile app.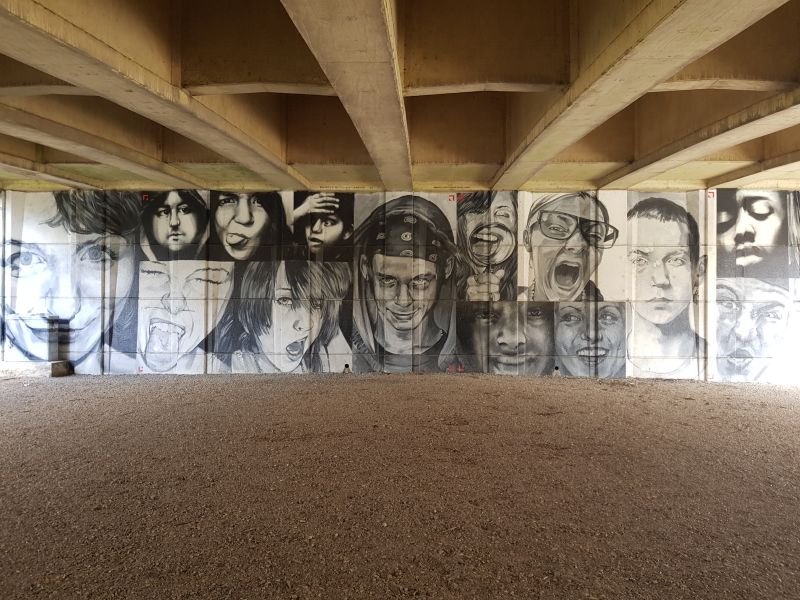 Mural under Royal Windsor Way
It is possible to find a story in the most unlikely places. This bench and stone plinth mark a spot called Athens. In years gone by Eton boys used this stretch of the Thames for swimming. It was written into the school rules that when a lady passed by the boys would have to submerge themselves under the water, this is because they swam naked. They now have a pool in the college, and hopefully, swimming trunks.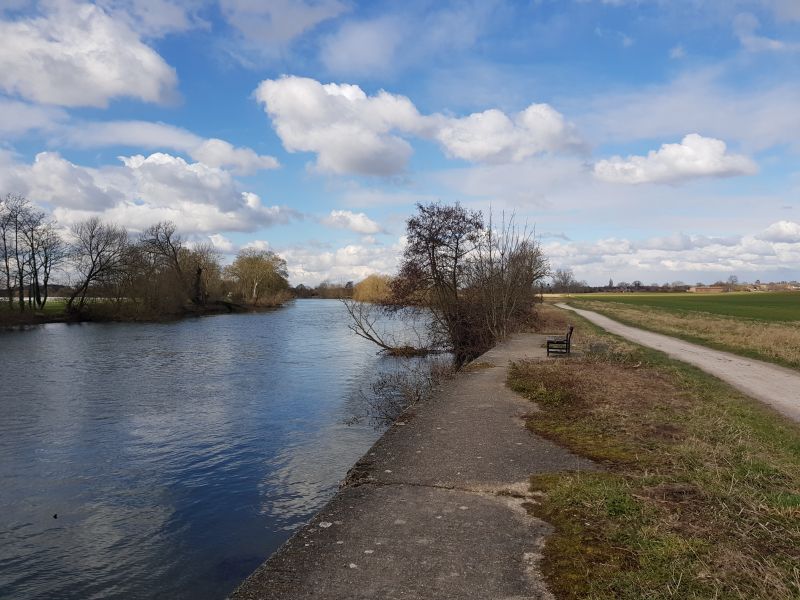 Across the river is Royal Windsor Racecourse, often a hive of activity with their various race days, fairs, concerts, and family fun days. On my side of the river I pass a couple of dog walkers and cyclists. All with a cheery hello or good morning as they pass. This morning all I can manage is a half-smile and a slight wave as I keep my head down against the cold wind.
In the distance I see Boveney Lock coming into view. That means two things: I'm nearly at the turnaround point of my run and I'm near a toilet – if you need to know the whereabouts of random toilet facilities, I'm your girl!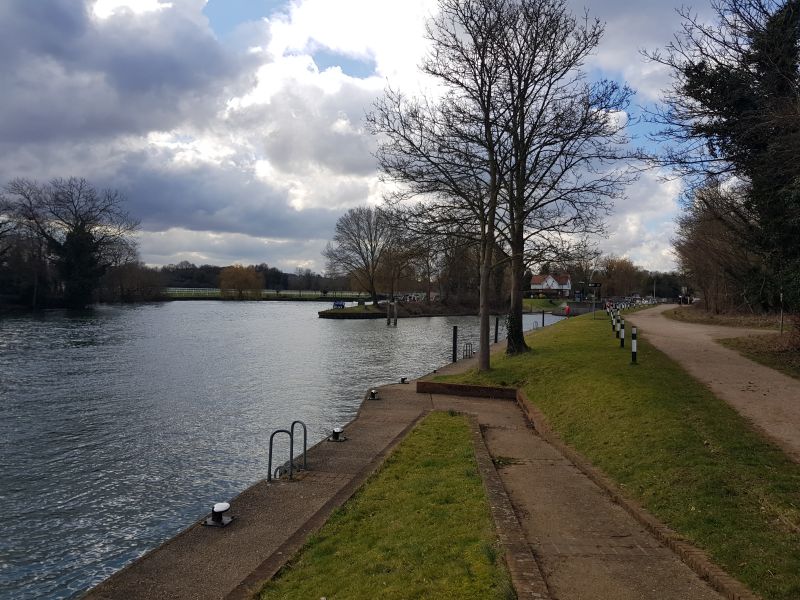 The approach to Boveney Lock
Just after the lock is the peaceful Chapel of Saint Mary Magdalene. I always tell my running friends that this church featured in a scene from Kevin Costner's 1991 film Robin Hood: Prince of Thieves. I really should watch the film and try to spot it.
It looks like the chapel is in the middle of nowhere, but just behind the trees is the London 2012 Olympic rowing lake.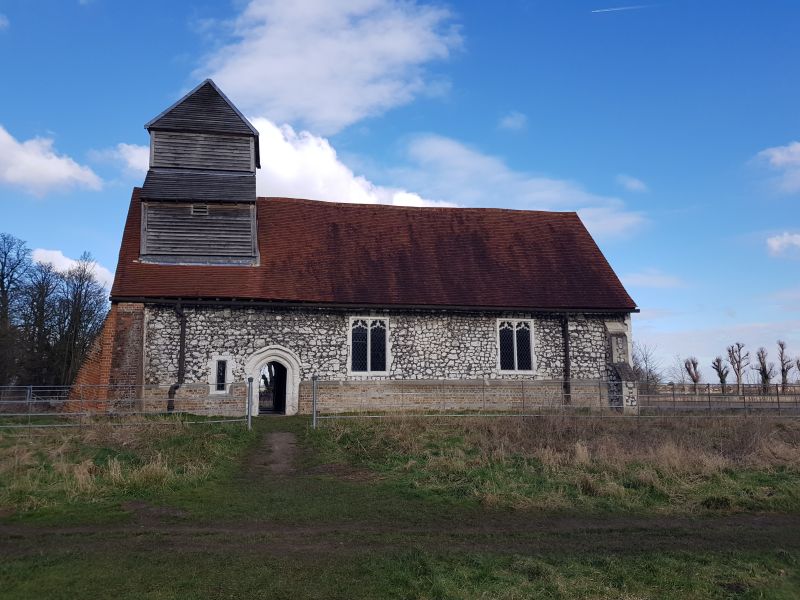 Chapel of Saint Mary Magdalene
It's only a few 100 metres until my turn around point at Andrews Boathouse, the home of Eton College Rowing Club, but the drizzle has stopped and I feel quite good at this point so decide to carry of along the river a bit further. My 4.5 miles is about to become an 8-mile run so I have to know I really want to do it. There is no shortcut unless I turn around and go back the way I came.
Continuing with the river on my left I take a sharp turn at Ruddles Pool and keep going straight for 1.4 miles. Mentally ticking off Windsor Marina, Eton Excelsior Rowing Club and the grand gothic Oakley Court Hotel and grounds as I pass them on the opposite side of the river.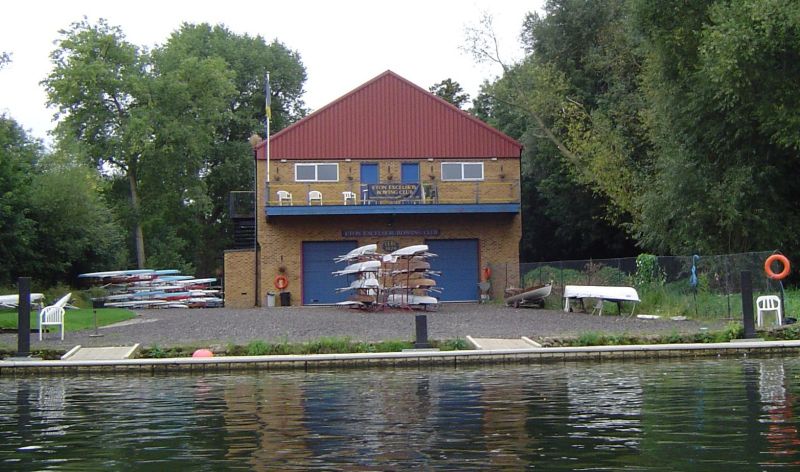 Eton Excelsior Rowing Club
This path is sheltered and lined all the way with trees but that means there are plenty of trip hazards in the shape of tree roots and stumps. I'm getting to know where they are, having kicked or tripped on them many times.
Soon enough the trees on my right open onto a footpath that takes me to the top of Dorney Lake. There is always a cyclist or dog walker at this junction and today is no exception, probably because I stand there for so long drinking my water that it is inevitable that someone will appear. I am now at the furthest point from the start and need to muster some enthusiasm for part two.
Running around Eton College Dorney Lake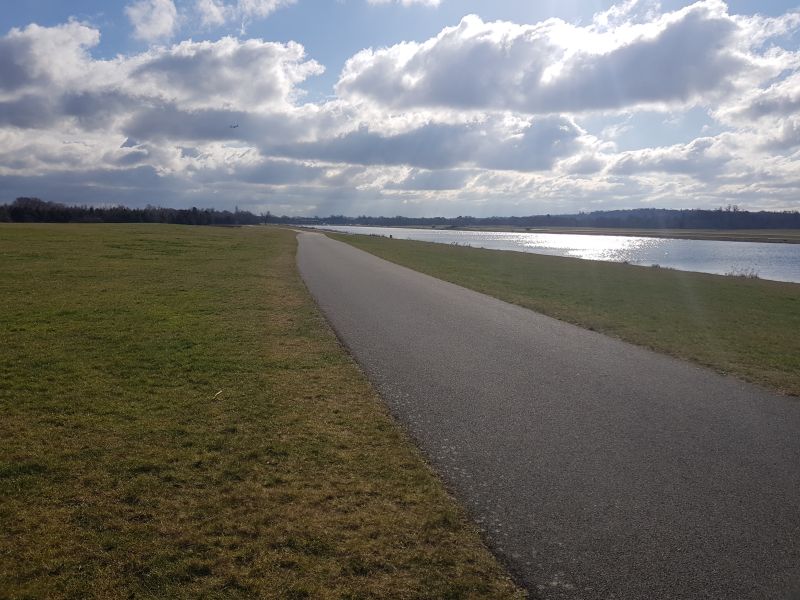 Don't get me wrong, I feel both lucky and privileged to have amazing and enviable running locations on my doorstep. But when running down the side of the beautifully still Dorney Lake, the Eton College rowing lake and venue for the London 2012 Olympics, I question my love of running. The path goes on, and on and on. There are markers on the lake for the benefit of rowers, signalling how far there is to go, 1750m, 1500m, 1250m, and so on. But the boathouse and conference facility at the end of the lake doesn't get any closer. Is it actually moving as I run towards it?
The lake is regularly used for triathlons and regattas so usually there is something to look at while running. Not today though.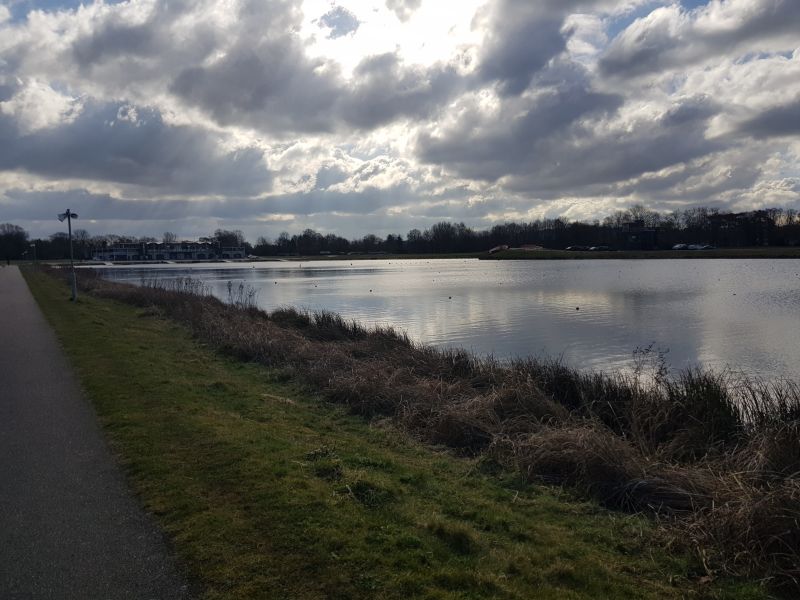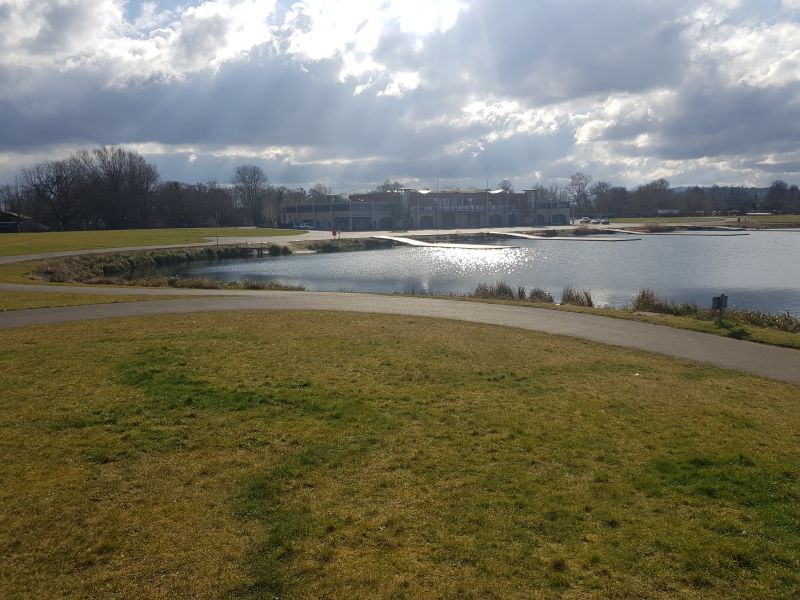 Back onto the river path I can choose to stick to the river or run the parallel path with views of Eton College across the fields. I stick with the river today and watch as Windsor Castle gets closer.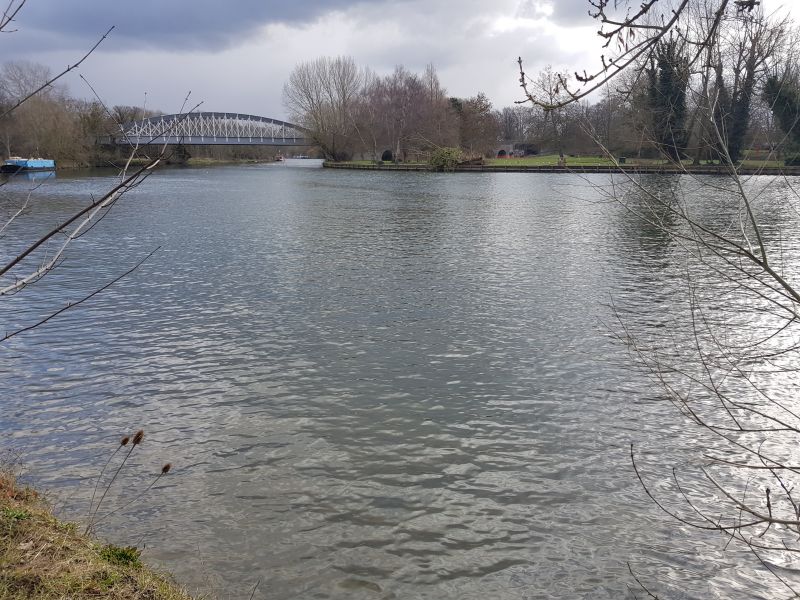 The world's oldest wrought iron railway bridge, designed by Isambard Kingdom Brunel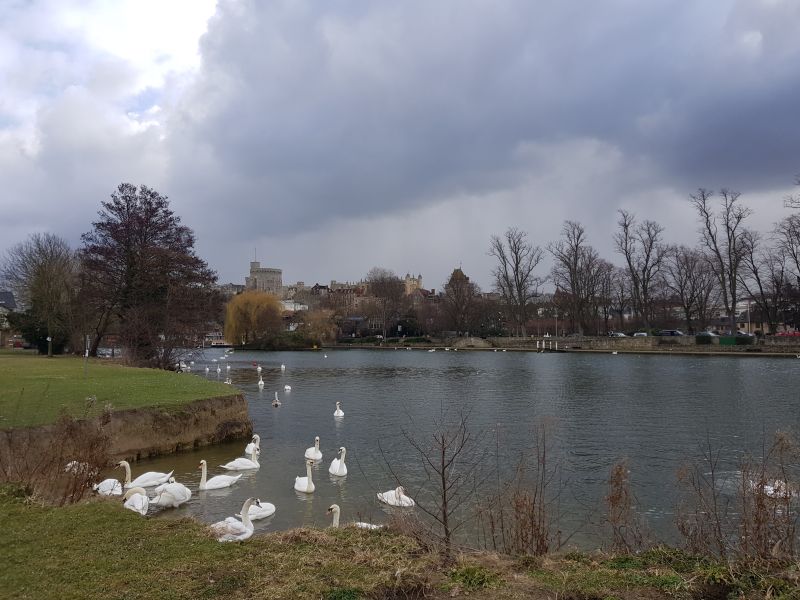 Wonderful views of Windsor Castle mean I'm almost home
Finally running back across the Brocas with the end in sight I stop just before Eton Bridge to grab a coffee and read the Sunday papers in The George pub. It's only 10am so I am a little early for a delicious and well-earned roast dinner.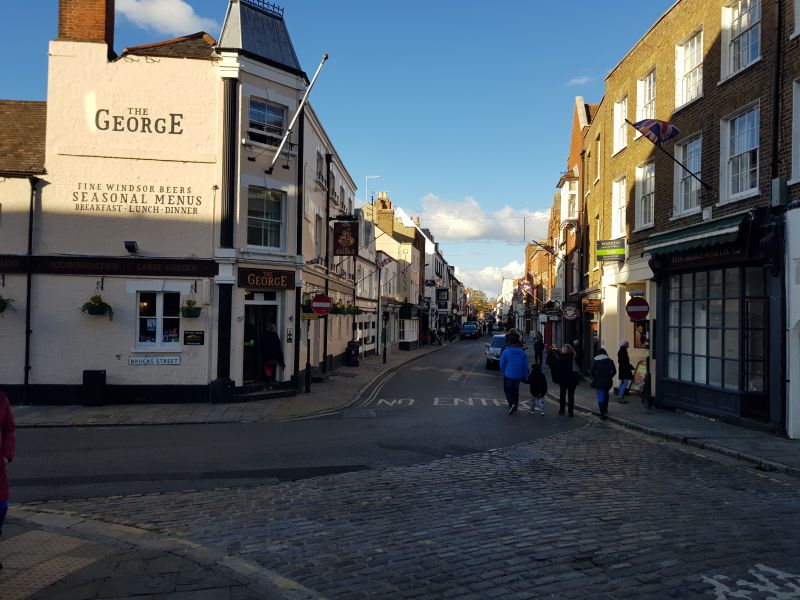 The George, Eton High Street
Whether you are a seasoned runner or just starting out there are a variety of clubs in the area you can join to find like-minded individuals. Running in a group during the darker evenings is a good idea from a safety aspect but it will also get you out when all you want to do is stay in a warm cosy house.
Clubs in the Windsor area include Windsor Running Sisters, Datchet Dashers, Evolution Triathlon Club and Windsor, Slough, Eton and Hounslow Athletic Club.
There are many races to take part in throughout the year including The Windsor Half and Women's 10K, The Alexander Devine Santa Dash, Race for Life 5K and Beat the Boat.
Weekly parkruns take place in Maidenhead, Upton Court and Black Park.
Related
0 Comments