Shopping
Shopping is one of the top reasons to come to the Royal Borough of Windsor and Maidenhead. Browse our pedestrian-only shopping centres and our shop-lined streets offering shoppers a great mixture of high-street names, independent retailers and regular markets too. Of course, there are plenty of cafés and restaurants to stop for a 'refuel' and people watch! Shopping in Windsor and Maidenhead really is something else! Use our Shopping Search to get started.
Easy to get to, easy to get round!
Arriving by train? Both of Windsor and Eton's railway stations are centrally located for the town's shopping areas, so too is Maidenhead railway station.
Coming by car? Head for a long-stay car park where a day's parking is more economical.
Elegant and distinctly well-heeled, there is a wealth of good shopping opportunities, whether you're after original handmade items, vintage gems, quality high-street goods or lush plants for your house or garden.
And the compact town centres mean you can easily explore on foot.
Windsor and Maidenhead Shopmobilty
If you have limited mobility but want the freedom to browse the shops, enjoy a coffee or see the sights, then check out People to Places Shopmobility. You can borrow equipment such as manual wheelchairs, powered chairs and mobility scooters to make travelling around much easier. There are two Shopmobility locations – Windsor and Maidenhead – and car parking is right by the equipment hire.
Windsor
At the heart of shopping in Windsor and Eton is Windsor Royal Station, a mostly covered area that occupies the site of an 1850s railway station: you can still see Queen Victoria's royal waiting room.
Here you can browse upmarket brands such as Hobbs, Mint Velvet, Le Creuset and Whistles in a continental café setting; you might also be intrigued by Artique, an art gallery with a consultancy service.
From Windsor Royal Station, steps lead down to Windsor Yards, a pedestrian-friendly collection of good high-street stores including Daniel of Windsor department store, independent family-run jewellers Anthony Paul Design Goldsmiths, Martin Crossley the Florist, Zara and Cotswold Outdoor.
Peascod Street, the car-free road that runs down the hill directly opposite Windsor Castle, has more high-quality high-street brands including Superdry and Barbour.
You might want to pop into vintage store Really Me at no 44 which sells clothing, accessories, furniture, bric-a-brac, books and vinyl and also helps fund Thames Hospice.
Lower Peascod Street and St Leonard's Road are where Windsorians love to shop. Here you'll find a part of Windsor that champions the independent retailer and you'll discover cosy cafés, original homeware shops and great food and wine, with a bit of fashion thrown in for good measure.
Shops in Windsor along the High Street, Thames Street and the 17th-century Windsor Guildhall enjoy a scenic location beneath the Castle, and specialist shops entice visitors with local jewellery and woollens, as well as royal regalia in the form of souvenirs.
Eton
Stroll from here across the bridge over the Thames and you'll come to Eton High Street, leading towards the famous Eton College – you can't miss the pupils in their chalk-stripe trousers, tailcoats and wing-collared shirts.
Amongst the tailors, discover quintessential gentlemen's outfitters New & Lingwood, founded in 1865 to cater for the sartorial needs of Eton College pupils and still occupying the same site on Eton High Street all these years later!
Aside from the school, Eton is renowned for its art and antique shops and appealing small family businesses, including jewellers, bookshops and gift shops.
On the mile-long strip of shops between the Thames and Eton College you can browse for original paintings, prints and photography, haute couture and leather goods.
There are plenty of traditional pubs and eating places to stop and refuel too.
Out of town
One of the most beautiful and unusual shops in the area is located in The Savill Building; it has a dramatic, undulating wooden ceiling and is the elegant gateway to The Savill Garden in Windsor Great Park.
The shop proudly sources most of its products – from gourmet food to kids' games – from across the UK, and they favour fairtrade, organic and charitable suppliers.
Keen gardeners will be drawn to the outdoor plant area with plants lovingly nurtured in The Savill Garden itself, and you'll find gifts, books and maps, bespoke stationery and Windsor Great Park preserves.
Round off a trip with tea and a homemade cake in The Savill Garden Kitchen.
Maidenhead
Neighbouring Maidenhead is perfect for high street shopping and great for markets. The Nicholsons Centre has everything under one roof and hosts plenty of seasonal events and kids entertainment.
Neighbouring Towns and Villages
Ascot, Cookham, Sunninghill and Sunningdale offer fine boutiques, arts and crafts stores, florists and wine merchants.
Markets
You'll discover regular produce markets, monthly farmers' markets and a weekly Metre Market too; read our Markets page for more information. As well as seasonal fruit and veg, as well as meat, fish, game and specialist breads and cakes you'll also find wonderful arts and crafts from local producers.
Further Information
If you are planning to come to Windsor and Maidenhead for a bit of retail therapy, why not turn it into a short break or weekend break?
To get you started, we recommend you check out our accommodation pages which have more information on our wide range of quality hotels, bed and breakfasts and self catering properties.
And whilst you plan your next shopping break in Windsor and Maidenhead, why not combine a little fun into it by visiting our many things to do and attractions such as Legoland and Dorney Court?
If food, drink and entertainment are important to you, why not check out our Pubs and Bars and Nightlife in the Royal Borough pages for recommendations?
Last but not least, you can also check out our 'What's On' page to get a list of events and shows (such as the world-famous Royal Ascot or Royal Windsor Horse Show) that are on whilst you are here.
Shopping & Eating In Windsor
Highlights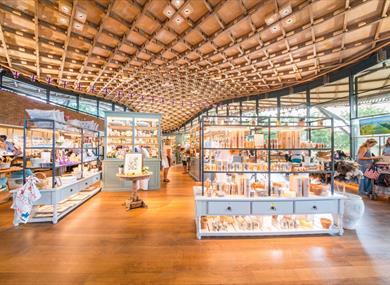 The Savill Garden Gift Shop is also located in The Savill Building. You'll find a wide range of…
With over 40 exciting shops, a wide range of continental-style restaurants, cafes, bars and an art…
Step into the Windsor Castle shops and experience a world of exclusive gifts and royal souvenirs.