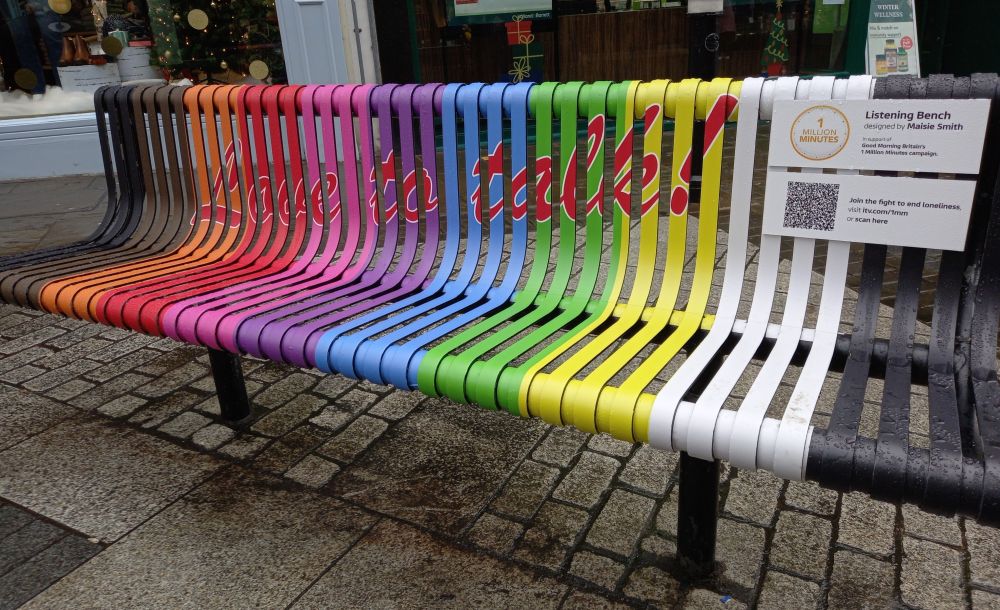 A bench in Windsor town centre has been decorated with a colourful new design and wording as part of a campaign to combat loneliness.
The Royal Borough is part of this year's 1 Million Minutes campaign, run annually by ITV's Good Morning Britain.
The 'listening bench', in Peascod Street, uses the concept of a rainbow pattern with the wording 'Love to Talk!' and has been designed by actress Maisie Smith. The makeover was unveiled live on Good Morning Britain today (Monday 6 December).
As part of this year's initiative, new benches have been installed, or existing ones given a makeover with either branding or a design by a celebrity or influencer, in towns and cities across the UK to encourage people to sit down and talk to one another.
Now in its sixth consecutive year, 1 Million Minutes is asking people to pledge time to help end loneliness. Time is 'donated' to charities looking for volunteers to connect with those who feel lonely.
Throughout December there is a pledge button on the ITV website where people can commit time to volunteer. This could be as simple as a companion call or running a friendship group.
Councillor Stuart Carroll, cabinet member for health and mental health, said: "I'm delighted that the Royal Borough is part of this year's campaign. Loneliness and isolation, sadly, is something that is all too common in society and, in many cases, been exacerbated by the Covid pandemic and the lockdowns people have endured in recent months.
"Life is busy, but it's important that we all take some time out from our busy schedules for ourselves and others. This bench is an eye-catching reminder of the importance of connecting with other people as a way of supporting positive mental health and well-being.
"The generosity and kindness of others is a vital part of this campaign and any support you can offer will be greatly appreciated, so please do volunteer if you can help."
Officers in the council's Neighbourhood Services team worked with the organisers of 1 Million Minutes to ensure that the Royal Borough was part of this positive initiative and able to lend its support to the campaign.
It runs throughout this month after which the temporary vinyl design will be removed, and the bench will be returned to its normal state.
For more information, and to donate your time, please visit: https://www.itv.com/1mm or scan the QR code on the bench.
Related
11 Comments