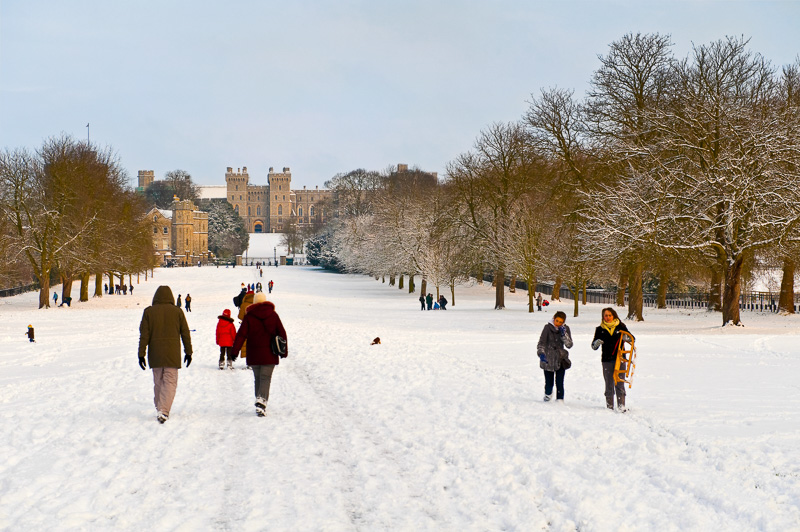 This small town nestled in the heart of Berkshire has a lot to offer over the festive season. Not only does it look postcard-perfect with a light dusting of snow, but there are so many things to get you into the festive spirit!
I've been fortunate enough to live nearby for the past 4 years, and have enjoyed inviting friends to get into the festive spirit here.
Here are some of my favourite things to do!
The beautiful, cosy pubs
Windsor is not short of a good pub or two. Or three. Or four. And some of these fabulous drinking establishments come into their own at Christmas and winter time.
Three of my favourites are:
Duchess of Cambridge
Located on the High Street directly opposite the castle, this more modern pub and restaurant has a cosy feel to it, with low ceilings, lots of space to sit and a particular favourite – a roaring fire.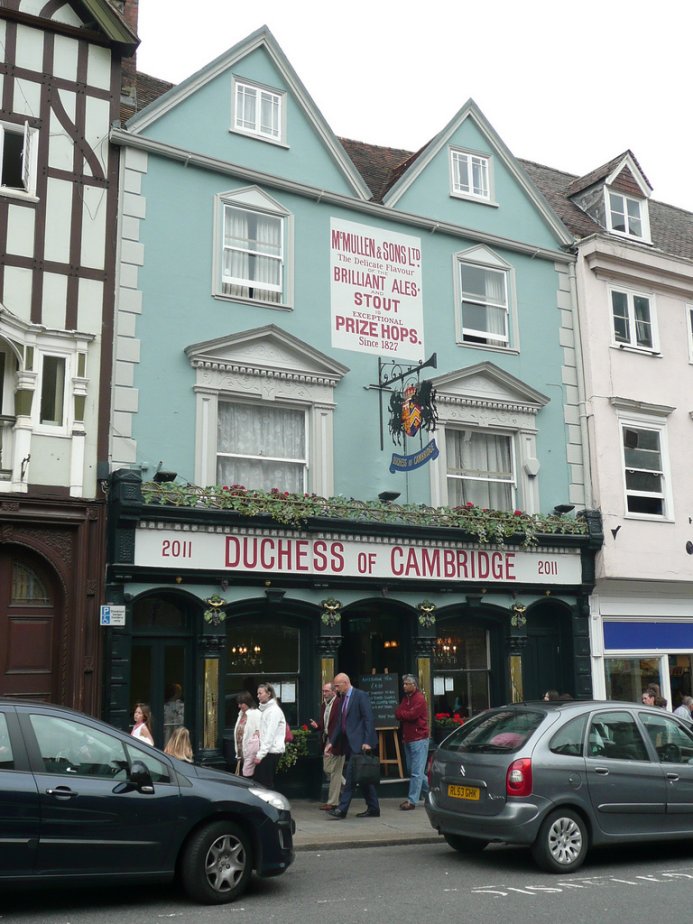 I love coming here for a cup of tea and dessert – the puddings are particular good and coupled with a hot chocolate or tea will help warm you up before you head back out into the cold and is a great pit stop if you're visiting the castle.
Horse and Groom
This is one of the oldest pubs in Windsor, and great for popping in and grabbing a festive drink – especially in the evening with a group of friends.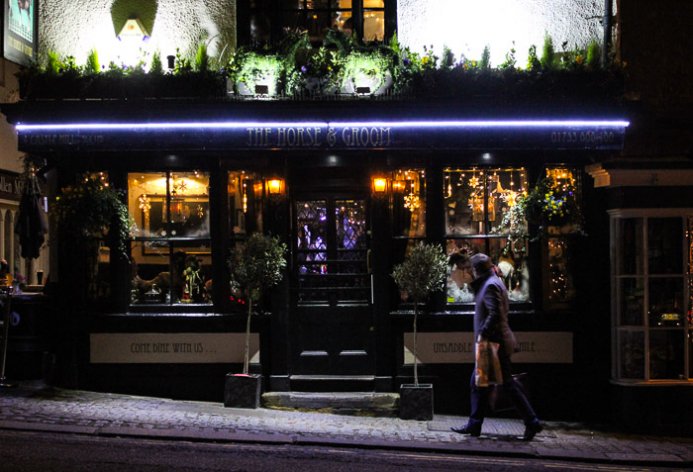 It's directly opposite the Henry VIII gate (one of the main castle entrances) on Castle Hill. It was built in the 16th century, and it's beautifully traditional with wood beams, a small bar and lovely little tables dotted around. Why do I love this pub in the winter? It has a great vibe, especially when Christmas meet-ups fill this little pub with joyous, happy people! They occasionally have live bands play here and it's not unknown for people to climb onto chairs and sing along.
Two Brewers
Hands down, this is my favourite pub in Windsor. It's perfectly positioned opposite the entrance to the famous Long Walk and this historic pub oozes character and charm. In fact, it's hard not to fall in love with the wooden beams, the three small bars and the candle-lit tables nestled by the roaring fire places. The atmosphere is electric, especially in the run up to Christmas Day.
Booking is advised!
This pub has a famous Christmas Carol night (this year it's on the 19th December) which is always really popular.
The festive feeling
Windsor always feels really festive in the run up to Christmas. The incredibly beautiful Christmas tree is located at the top of Castle Hill, opposite Queen Victoria's statue on the High Street, and is donated by the town of Coburg, where Prince Albert was born and where the first ever festive tree came from.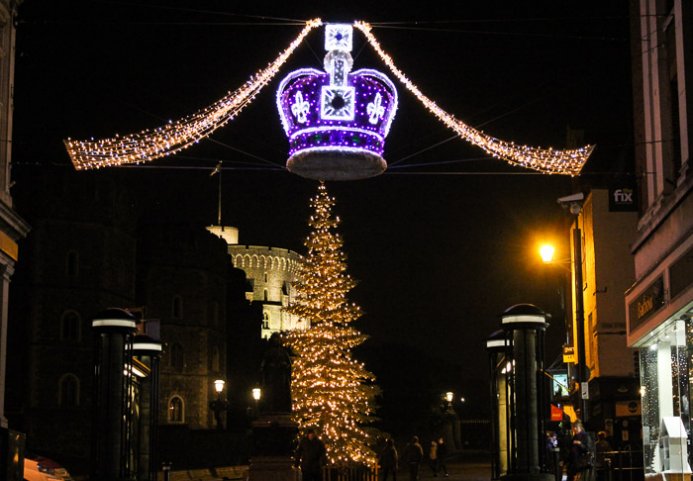 The Christmas lights down Peascod Street (the pedestrianised shopping road off the High Street) have some rather incredible lights in the shape of a crown amongst other things – and definitely worth checking out!
If you're visiting the castle, a top tip is to head in after hours. This year you can attend special 'behind the ropes' tours at the castle and marvel at the spectacular Christmas tree inside St George's hall.
If you really want to get into the festive spirit, I highly recommend visiting the stunning St George's Chapel inside Windsor Castle for Midnight Mass on Christmas Eve. People come from far and wide to attend the service but – be warned – you will need to get there early (around 30 minutes) before doors open if you want a seat and expect to queue in the cold first.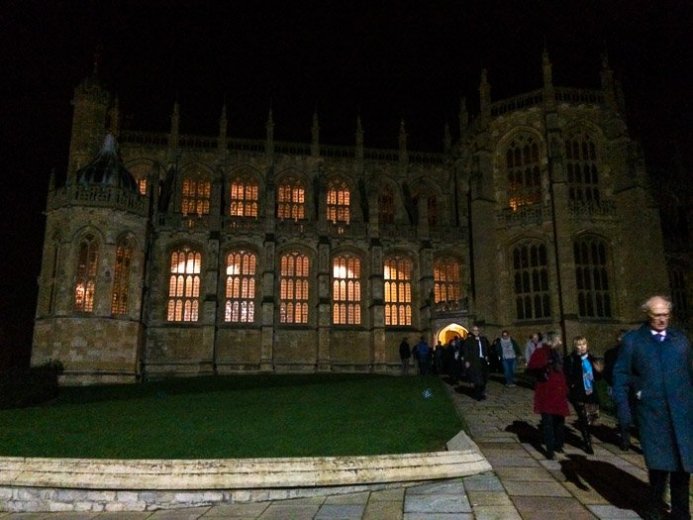 Leaving the chapel and walking past the Christmas tree all lit up in the early hours of Christmas Day morning is a real treat.
Christmas Shopping
Need to do some last-minute Christmas shopping? Windsor is perfect for buying gifts for family, friends, pets and colleagues.
By far my favourite place to go (especially if you have children….) is Daniels Department Store in the centre of Windsor. This independent store sells pretty much everything you could possibly want, with a giant children's toy department on the top floor. Santa also has a grotto here and you can stop for lunch or cup of tea if it all gets a bit much.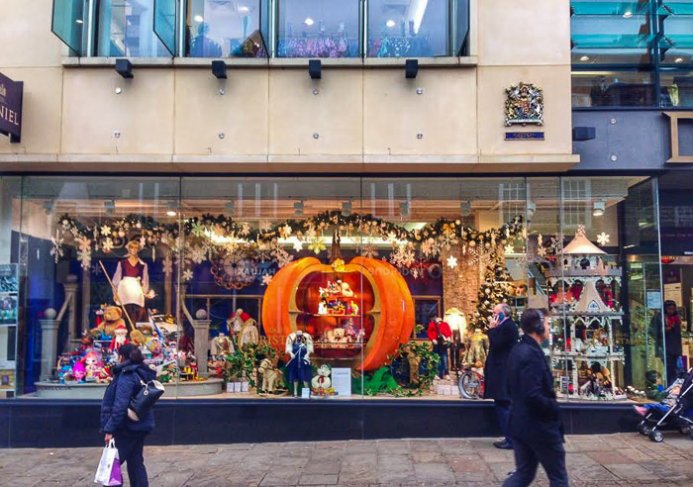 Their window displays are famous and even if you don't stop by it's worth just taking a look at the display on Peascod Street to get you into the Christmas spirit.
Head down further to the end of Peascod Street and you will find St Leonard's Road. A small high street packed full of independent little shops and cafes, if you're looking for something more individual.
Fun activities
From the now famous Reindeer walk to the Christmas lights switch on there is no end to the fun activities you can find in Windsor over the festive period.
I absolutely love going to the pantomime at the Windsor Theatre (in fact it's become quite the tradition for my family!) and if you're lucky enough to visit after it has snowed, there is nothing more magical than walking along the famous Long Walk, looking back at the castle sprinkled in snow and the white fields surrounding it.
My perfect Windsor weekend itinerary for Christmas
Coming for the weekend? There's so much to see and do. Here's what I would get up to if I had 48 hours to explore this stunning town.
Saturday AM
Have breakfast in one of the many fabulous cafes. Try Cinnamon Café in the old station for one of the legendary cinnamon buns with a cup of coffee.
Head to Windsor Castle and explore this iconic and historic building for a few hours. There's so much to see and do, you definitely won't get bored. Top tip: Buy tickets online to avoid the queues.
Saturday PM
Grab a late lunch and explore Eton High Street on the other side of the river to Windsor. Lots of boutique shops, pubs, restaurants and cafes so the perfect place to grab some lunch.
On your way back have a little stroll along the river and meet the famous Windsor swans.
In the evening, head to the Windsor Pantomime for some stomach-holding, laugh-a-minute moments in one of Britain's most traditional events.
Pop into the Two Brewers before last orders for a glass of fizz!
Sunday AM
Start your day with a bit of shopping on Windsor's famous shopping street. Stop off for a bite to eat at one of the cafes on St Leonard's Road – Monty's is a favourite for light bites!
Sunday PM
Head to the Long Walk for a stroll and marvel at the incredible views of the castle.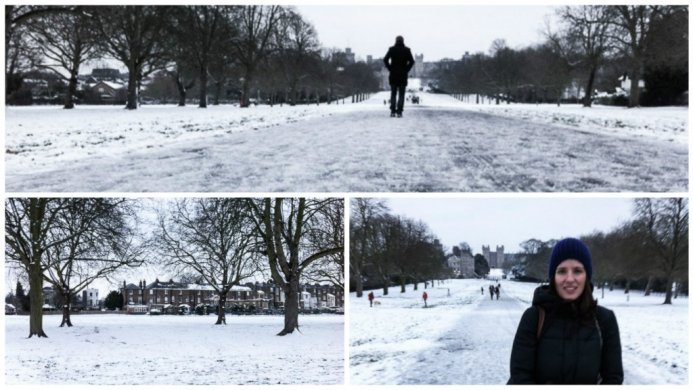 Related
0 Comments