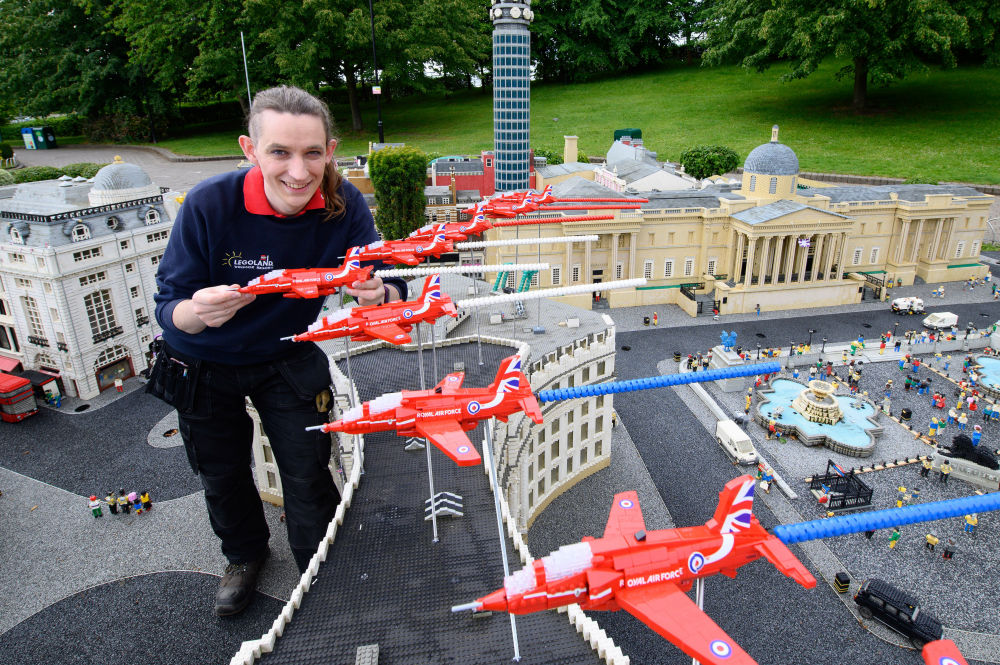 The LEGOLAND® Windsor Resort has today unveiled a mini-majestic display fit for The Queen to celebrate the Platinum Jubilee.
Reimagined in LEGO® bricks, Her Majesty is joined by new models of the Royal Family as part of a spectacular display stretching across several scenes in the Park's iconic Miniland attraction.
A team of expert Model Makers have been hard at work for months to complete the celebratory display which took a total of 282 hours to build, using more than 18,000 individual LEGObricks!
Guests who visit the Resort this Bank Holiday weekend will be the first to see the incredible detail which has gone into creating each scene which also features a Red Arrows fly-over display, the Tree of Trees and a celebratory street party in front of Windsor Castle.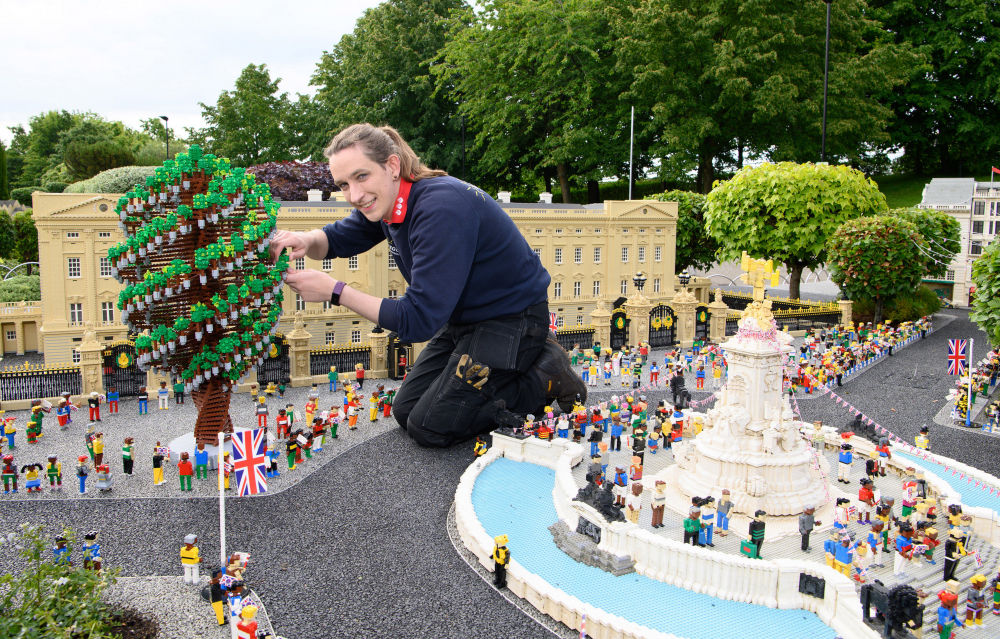 Paula Laughton, Chief Model Maker at LEGOLAND Windsor Resort, said: "The royal connection between Windsor and Her Majesty meant that our Model Maker team had to pull out all the stops to mark this monumental occasion here in Miniland.
"It's always a joy to be able to recreate iconic moments in British history in LEGO form, and we hope guests to the Resort will enjoy catching a glimpse of The Queen as they've never seen her and The Royal Family before with a little miniature majesty."
Up on the miniature Buckingham Palace Balcony, The Royal Family including The Queen, the Prince of Wales, the Duchess of Cornwall and the Duke and Duchess of Cambridge with their three children, stand together waving out to the cheering crowd below. The jubilant crowd surround a 5,075 LEGO brick version of the Tree of Trees, the living structure built outside the Palace to celebrate the Queen's 70-year reign.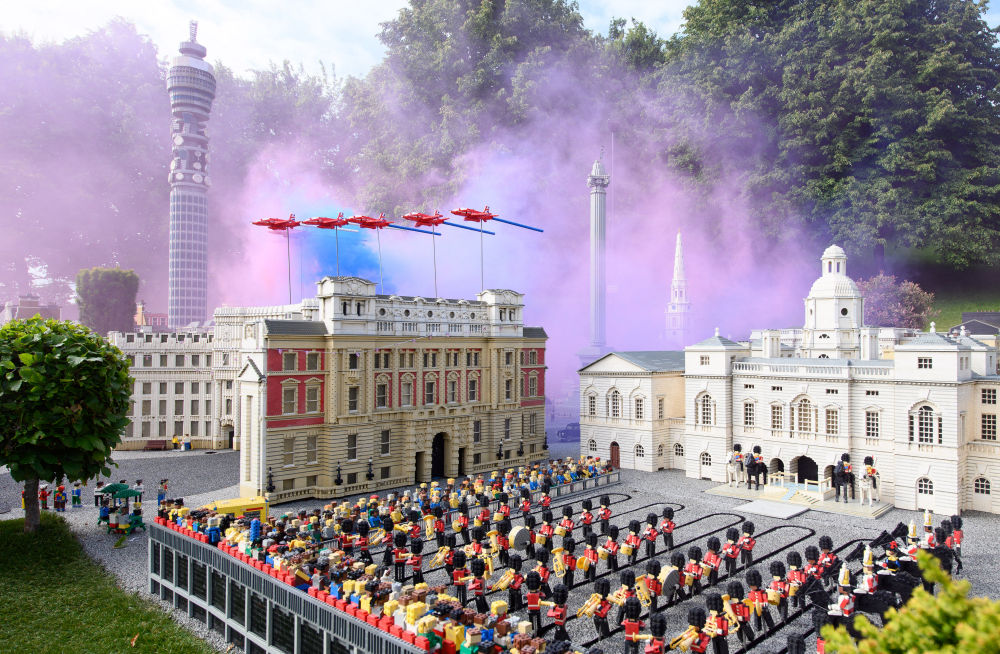 The mini-Platinum Jubilee scenes also include another LEGO Queen built using 1,350 bricks which took 15 hours to build. The Queen wears a bright yellow dress and a hat fit for a day at Ascot in a tiny, motorised car that travels up the Union Flag adorned Mall.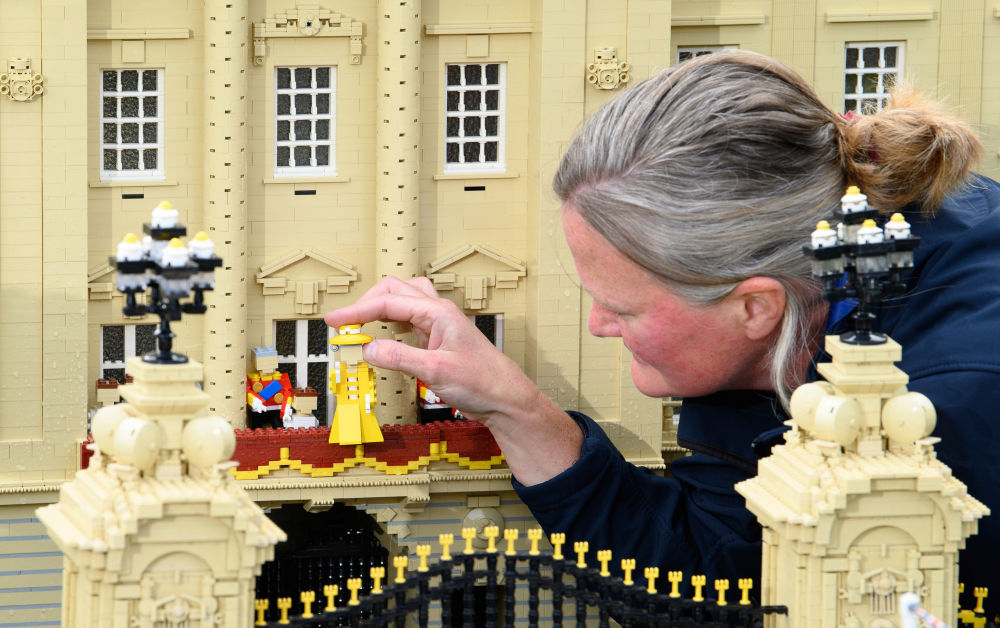 The iconic Red Arrows can be spotted flying down The Mall towards Buckingham Palace too, paying homage to the epic real-life demonstrations planned for the celebrations. The Red Arrows scene has nine individual planes all hand built by one Model Maker over 33 hours. Each plane is 7.5 cm x 30 cm, has a wingspan of 21.5cm, is made up of 206 bricks and has an awesome smoke effect.
Over at Miniland's model of Windsor Castle, Model Makers have created a LEGO brick replica of The Big Lunch picnic celebration along the LEGO Long Walk decorated with tiny flags, red, white and blue bunting and gingham clad picnic tables adorned with colourful LEGO food. Street Party scenes round off the dazzling Platinum Jubilee display.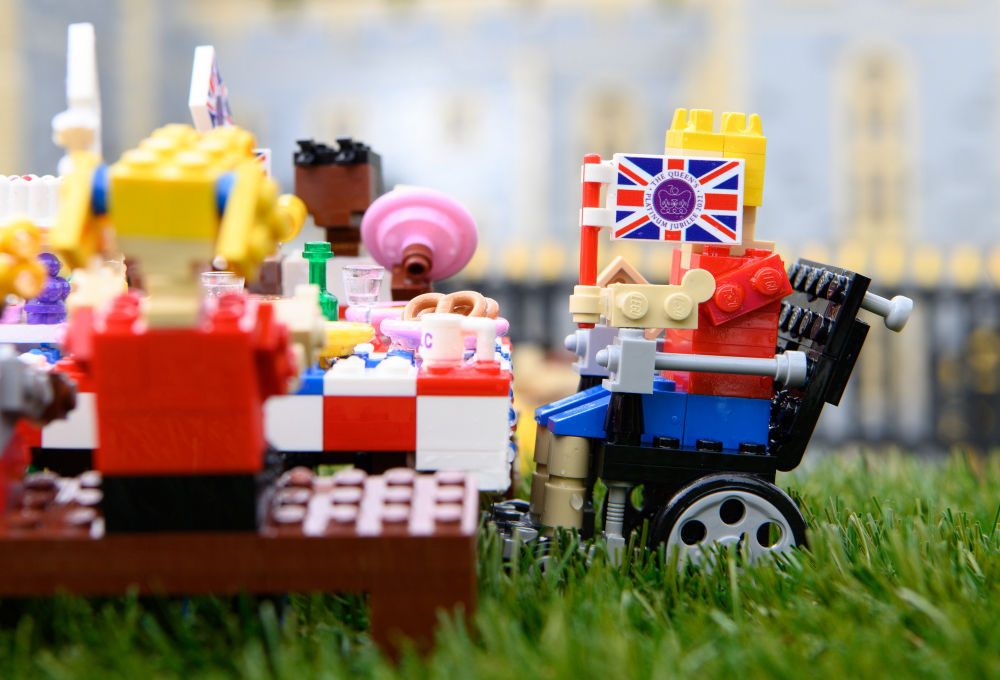 The scene will be on display from today until the end of the main LEGOLAND season in November. Day tickets to LEGOLAND Windsor start from £29 per person, kids under 90cm go free. Make a weekend of it by booking an overnight stay at the LEGOLAND Windsor Resort Hotel or the LEGOLAND Castle Hotel with prices starting from £457* for a family of four. To book visit www.legoland.co.uk
Related
10 Comments