The Windsor Platinum Jubilee Fountain has been switched on, providing free drinking water for visitors and residents alike, helping to reduce single-use plastic bottles and standing as a lasting tribute to Her Majesty Queen Elizabeth II.
The monument, close to Windsor Castle, was among the projects of the Windsor Platinum Jubilee Committee to celebrate Her Majesty's historic 70-year reign, and also serves a valuable everyday purpose as a water bottle re-filling station.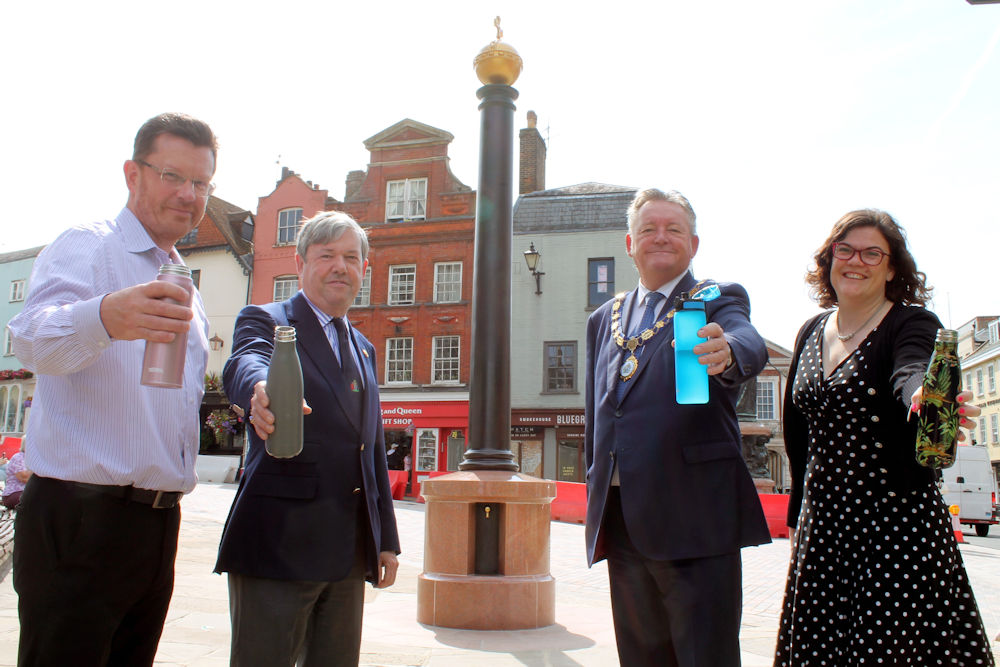 With their reusable water bottles at the Windsor Platinum Jubilee fountain, left to right, Royal Borough of Windsor & Maidenhead project manager Mark Pattison, Graham Barker DL, chairman of the Windsor Platinum Jubilee Committee, the mayor, Councillor Neil Knowles and Councillor Amy Tisi, Cabinet member for Windsor.
---
Funded by several sources, including private donations, sponsors and fundraising, its intended installation was rightly postponed due to Her Majesty's sad passing, however it has now been installed by the Royal Borough and turned on to mark the start of the school summer holidays and Plastic Free July.
It is hoped the fountain will provide more than 25,000 litres of free, fresh drinking water per year for residents and visitors, supporting healthy lifestyles. This will also support the borough's sustainability ambitions by reducing the use of single plastics by up to 50,000 bottles a year.
This week, Councillor Neil Knowles, the mayor, and Councillor Amy Tisi, Cabinet member for Windsor, along with Graham Barker DL, chairman of the Windsor Platinum Jubilee Committee, were among the first to re-fill their reusable bottles at the fountain's waters.
Mr Barker said: "It was always a key objective of the Windsor Platinum Jubilee Committee to not only celebrate collectively as a community, but to also provide a fitting memorial to our late Queen Elizabeth's incredible 70-year reign. The Windsor Platinum Jubilee Fountain delivers beautifully on that objective, plus it is also a useful water source in the town and an important step towards greater environmental sustainability.
"The Fountain was specially commissioned by the Windsor Platinum Jubilee Committee and the design was approved by her late Majesty. The Fountain was largely funded through a private donation with other contributions being made by local donors and the Royal Borough of Windsor & Maidenhead."
Councillor Knowles said: "Our borough enjoyed a long and proud association with Her Majesty, and this is a wonderful tribute to her in the heart of the town she called home. As well as being a special monument, it's also very practical in supporting healthy lifestyles and benefitting the environment too.
"Exploring Windsor can be thirsty work in the summer. Having refreshed myself from the fountain after a climb up Castle Hill, I'm sure this valuable new bottle re-filling station will be popular with residents and visitors. Our thanks to the Windsor Platinum Jubilee Committee and everyone involved in this unique project."
Councillor Tisi added: "This is a lasting legacy for Her Majesty's historic reign and a useful facility for residents and visitors in Windsor, aligning with our sustainability agenda to reduce single-use plastics and plastic pollution by promoting reuse of bottles and reusable bottles.
"In fact, we're looking to start a local water bottle refill scheme that businesses can join to promote themselves as places where the public can get a refill for free. We're currently inviting local businesses to register their interest."
The Windsor Platinum Jubilee Committee worked with several key organisations to deliver the fountain, including the Royal Borough, Thames Water, Volker Highways, Fyfe Glenrock, and Black Isle Bronze foundry. The Royal Borough supported the project to ensure completion and provide the ongoing maintenance programme.
About the fountain
Designed by Black Isle Bronze Foundry and LDN Architects, several options were explored, and the final design was then chosen by HM Queen Elizabeth II.
The design work considered the location and existing, well-known structures within the historic town centre. The main column was inspired by the beautiful 17th Century columns at the Windsor Guildhall.
The pink granite base matches that of the Queen Victoria statue, which stands adjacent and was erected in 1887 in celebration of her Golden Jubilee. The Orb that graces the top of the column on the new Platinum Jubilee Fountain is the same as that held by Queen Victoria.
Related
2 Comments