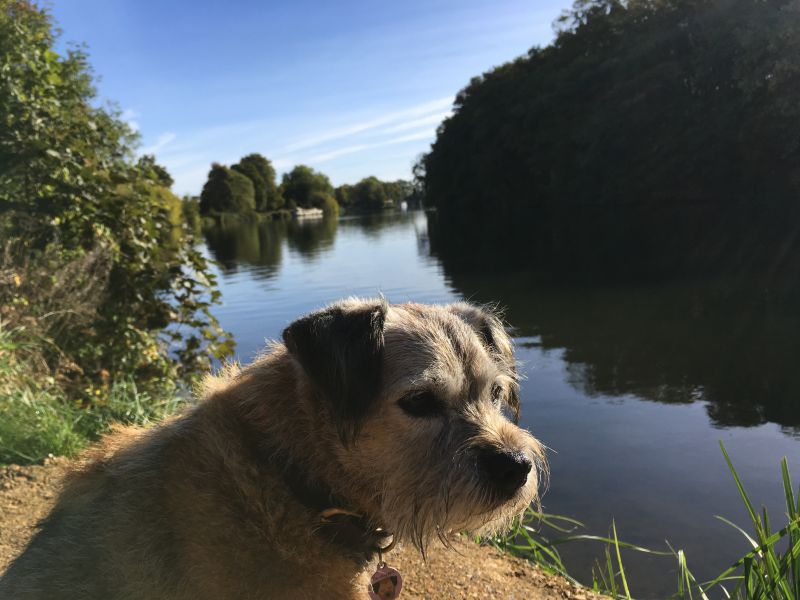 Walking the Thames Path above Boveney Lock
Let me introduce Tess the 14-year-old Border Terrier. Thanks to her, daily dog walks are part of the routine, come rain or shine. And thanks to living close to Windsor, open space in the form of countryside and riverside means we are spoiled for choice.
Where I can link a beautiful walk with a well-earned cup of coffee and a slice of cake I will, so I have listed some nice dog-friendly cake and coffee stops too!
So here are some of our favourite places to stretch legs and paws, whether you are lucky enough to live local or are here with your dog for a relaxing short break.
---
Windsor Great Park Dog Walking
For many people visiting Windsor, an amble on to the Long Walk is their first – and perhaps only – experience of Windsor Great Park. This wide, tree-lined avenue is perfect for a dog walk and great for socialising dogs too. The Long Walk links Windsor Castle at one end with the Copper Horse statue 3 miles in the distance.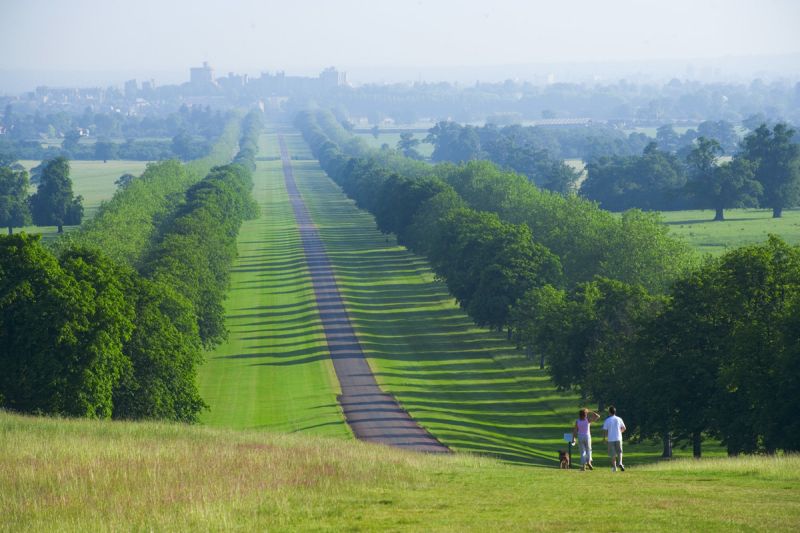 The Long Walk, Windsor Great Park
Choose to walk the linear route, as far as you like, or for the energetic with no time restraints, consider the Long Walk just the tip of the iceberg! For Windsor Great Park, part of the Crown Estate, extends for miles and miles in different directions and offers visitors and their canine friends beautiful scenery, spacious woods and parkland.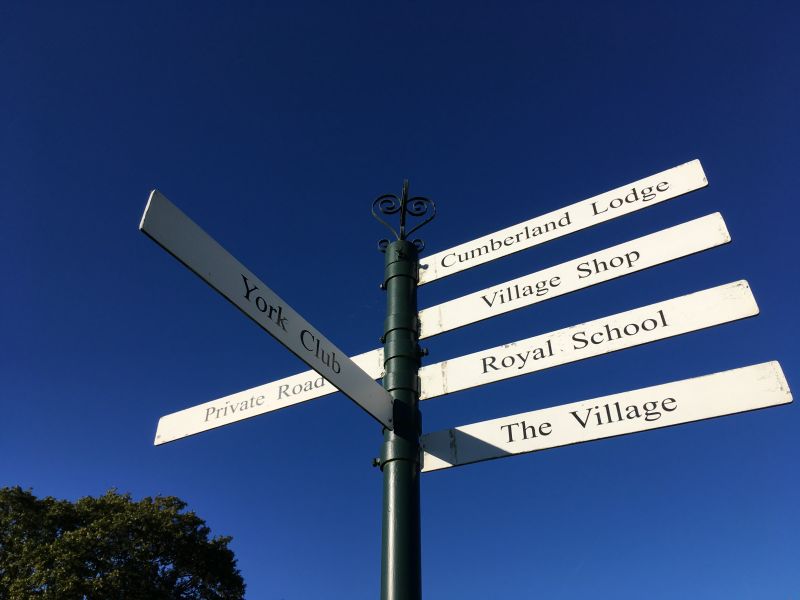 Windsor Great Park
You'll find a number of gates allowing pedestrian entry into the park (please note the Great Park cannot be accessed by vehicle). Some entrances to the Great Park will enable you to park free either in a car park or quiet road – for example Queen Anne's Ride (on the A332). Others, such as The Savill Garden, Virginia Water, Virginia Water South, Rangers Gate and Cranbourne Gate make a charge.
Favourite Great Park walks include the lakeside path around Virginia Water; a walk from Cranbourne Gate around the wider Village and Great Park post office; Obelisk Pond to Smiths Lawn polo grounds; and Bishops Gate to the Copper Horse.
Windsor Great Park's dog walking web pages offer useful information for dog walkers plus an interactive map and downloadable map.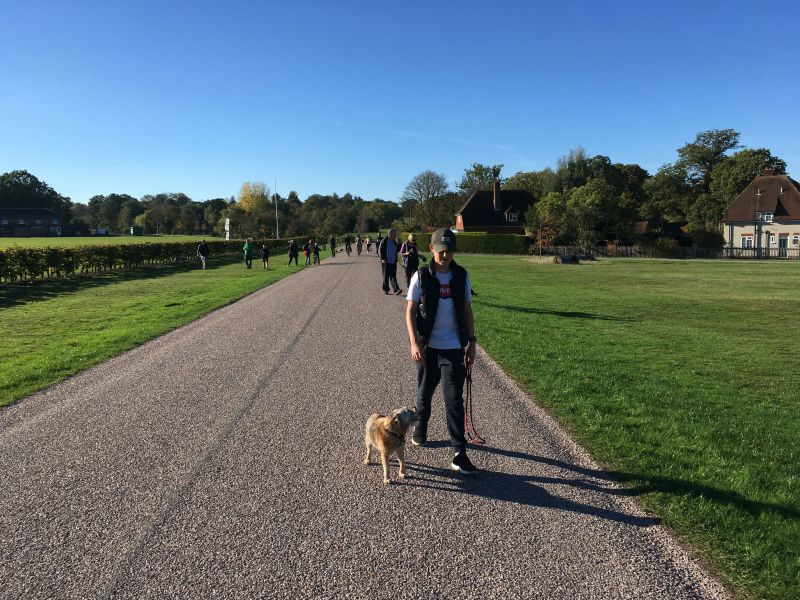 Windsor Great Park near the Village Post Office
Not all areas of the park admit dogs; for example dogs are not allowed entry to the 35-acre Savill Garden itself. But there are lots of lovely walks from The Savill Garden Visitor Centre where you'll find a dog-friendly terrace outside the restaurant for pre- or post-walk refreshments!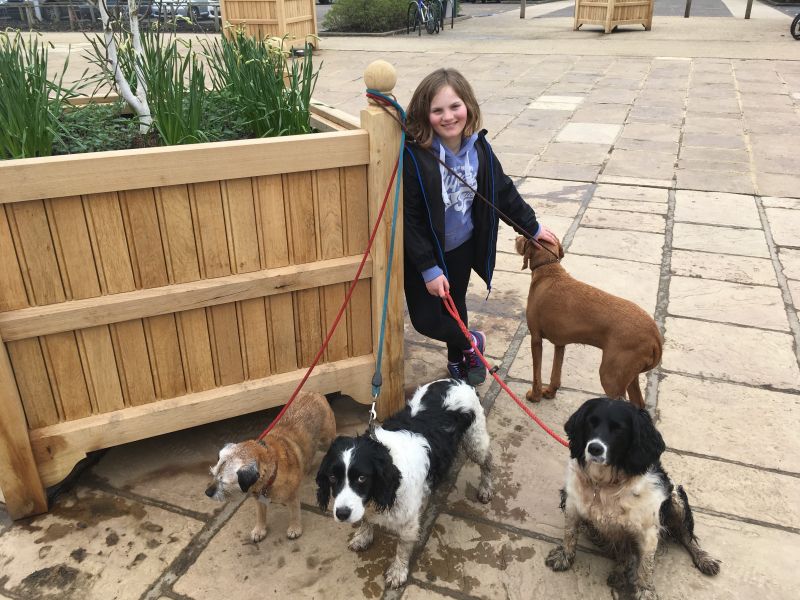 The Savill Building is a great place to start and finish a dog walk
---
Dog walking at Dorney Lake
In August 2012, Eton College Dorney Lake, near Windsor, was the rowing venue for the London Olympics. Imagine how this world-class rowing lake must have been buzzing as medal after medal was won!
Although privately owned by Eton College, Dorney Lake is open to the public in the winter months (do check their calendar before visiting) and makes an excellent spot for a dog walk (dogs on leads only). Walk the circumference of the lake (it's 2,200 metres long) or explore its beautiful setting within 450 acres of parkland which includes an arboretum and nature conservation area. It's well used by locals who enjoy walking, cycling and skating here. There is chargeable car parking at the lake entrance (via Court Lane).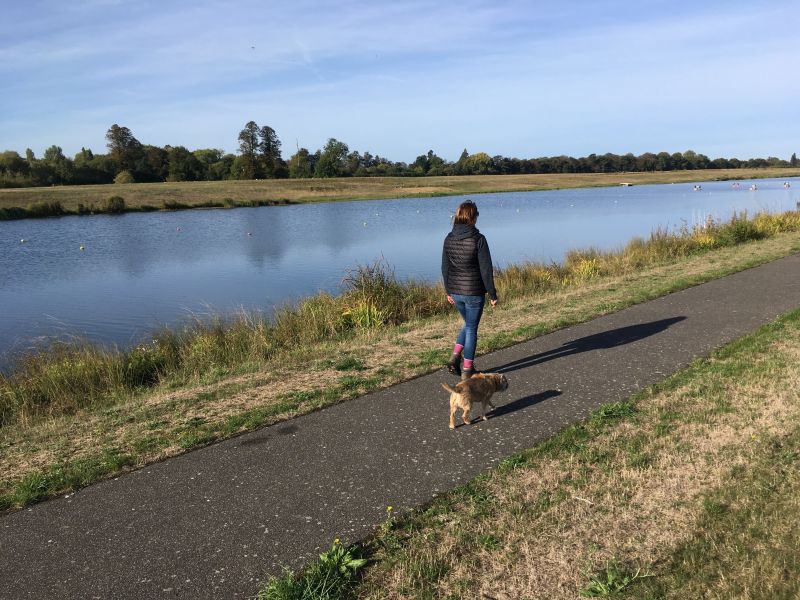 Dorney Lake boasts a 2,200m, eight-lane course with a separate return lane
Mr Brightside's vintage coffee van is often parked near the rowing centre selling delicious hot drinks, snacks and offering free treats for dogs.
You will also find a lovely café (with dog-friendly outside seating and dog-friendly inside area) at the garden centre, Crocus at Dorney Court, beyond the main entrance to the Lake, off Court Lane.
---
Cookham Moor
We do enjoy riverside walks and a beautiful stretch of the Thames can be found at Cookham, a few miles from Maidenhead.
We like to do a circular walk here, parking at the National Trust car park at Cookham Moor (free for NT members) then heading upstream with Cock Marsh on our left and the River Thames on our right.
The footpath takes you under the railway bridge that connects Cookham with Bourne End, then past some single storey riverside houses and the Bounty Pub on your left before opening out on to a broad grassy path towards the slope of Winter Hill. Look out for the Bronze-age burial mounds to either side of the path. The grazing cattle often drop down to the river to drink.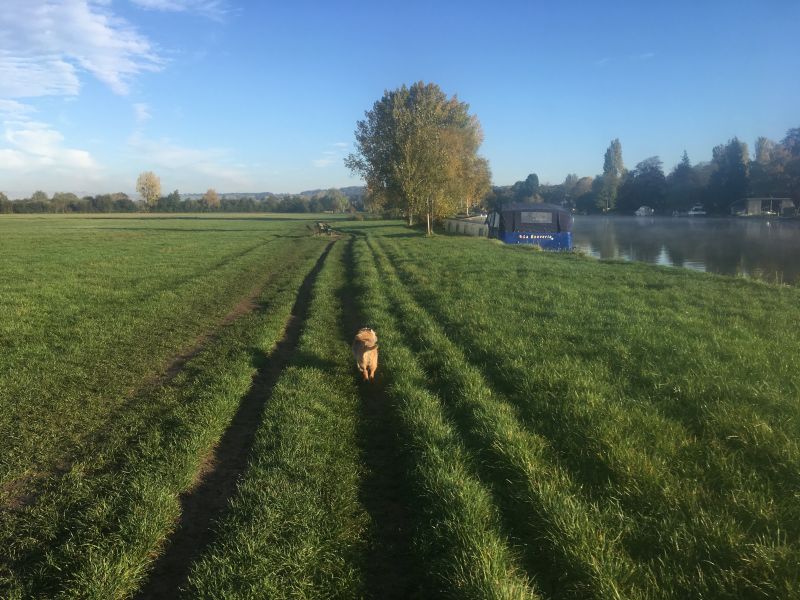 The River Thames at Cookham
---
National Trust Cliveden
I am really pleased that National Trust Cliveden now welcomes dogs in 300 acres of its 375-acre estate. There is so much green open space here and the views are to die for, especially from the South Terrace overlooking the parterre with the River Thames in the distance.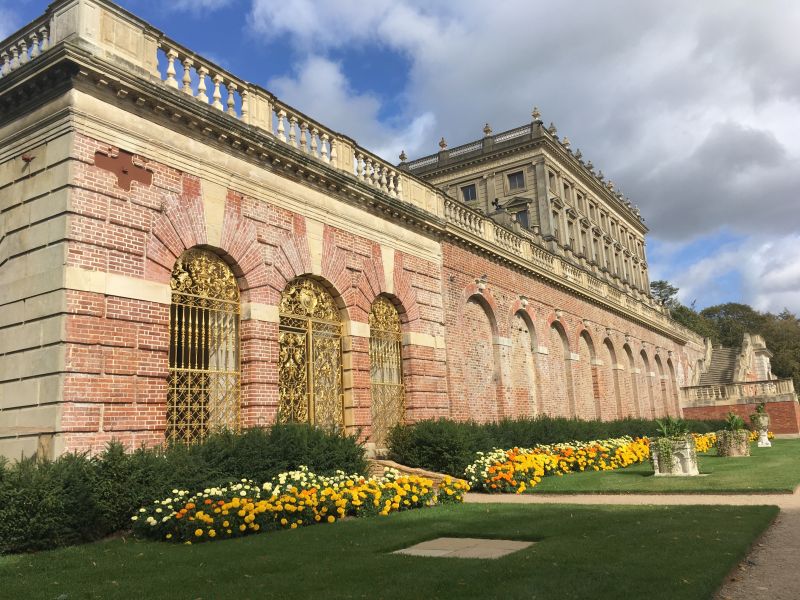 Cliveden's South Terrace
Cliveden's handy dog walking map colour codes where dogs are welcome, both off lead or on a short lead; just a small area of the gardens now remain off limits to dogs. Visitors will also be offered one of their new dog walkers welcome leaflets on arrival. Whilst dogs are not allowed in any of Cliveden's catering outlets, they are welcome outside.
---
Fernygrove Farm, Hawthorn Hill
Fernygrove Farm straddles the Royal Borough of Windsor and Maidenhead and neighbouring Bracknell Forest. We enjoy a circular footpath walk from here that takes around 40 minutes. In the spring, the farm organises walks to see the beautiful bluebell displays on the estate. Parking here is limited and for patrons of the coffee shop and farm shop only.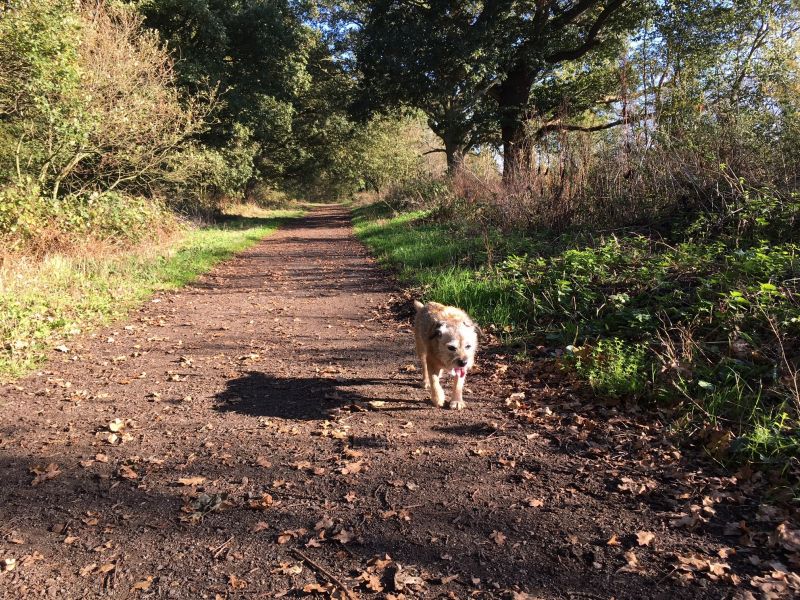 Byway near Fernygrove Farm
The farm's home-produced meat is available to purchase from their farm shop and can also be enjoyed in the coffee shop together with the most delicious home-made soup and cakes – a fine reward after a good stroll.
Dogs are welcome on leads in the coffee shop and also in the garden, where the views are amazing and far reaching – on a clear day you can see Cliveden.
---
Dog walks beyond the Royal Borough
From Windsor, Maidenhead or Ascot you will find more fantastic countryside, riverside and National Trust properties to explore right on the doorstep. All this makes it the most perfect destination if you are planning some away time with your canine companion.
The walking in Berkshire, Buckinghamshire and South Oxfordshire, including the rolling green countryside of the Chilterns, is plentiful.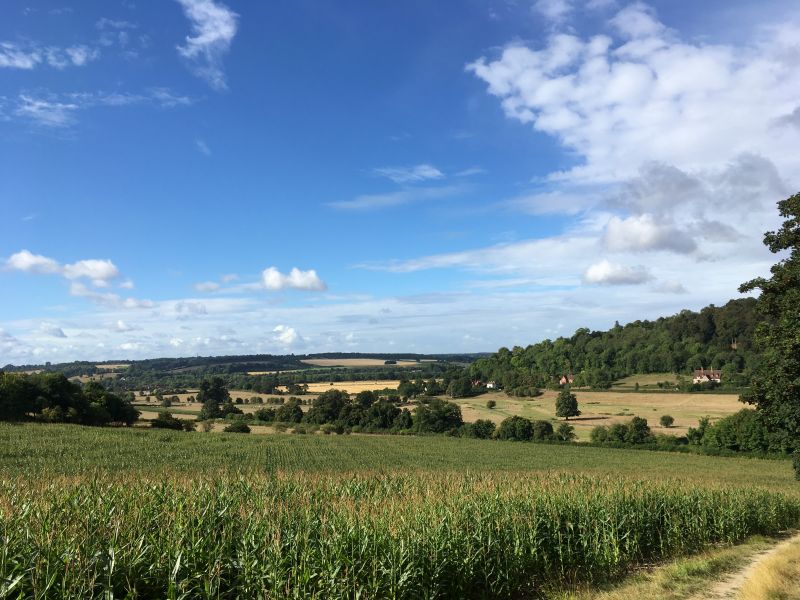 The Hambleden Valley
Follow the river and you can explore many miles of Thames Path as the water meanders on from Cookham to Marlow, Hurley, Hambleden and Henley.
Local National Trust estates, such as Basildon Park, Runnymede and Greys Court, offer fantastic dog walking trails.
In addition to the links in this dog walking blog, here are some websites that give me ideas for new dog walks that keep Tess the Border young at heart!
Windsor Pet Friendly Things to do
Windsor Pet Friendly Accommodation
Top 12 cafés and coffee shops with outside seating
AA walks www.theaa.com/walk-and-bike-ride
The Chilterns www.visitchilterns.co.uk/
Chilterns walks (including Hurley) www.10adventures.com/hikes/chilterns/
Thames path www.nationaltrail.co.uk/thames-path
National Trust www.nationaltrust.org.uk
Related
14 Comments